Musclepharm Combat Isolate Zero
MusclePharm Combat 100% Isolate is scientifically-engineered to deliver a whopping 24 grams of 100% whey isolate protein per 27 gram serving. That's high-quality protein with no added fillers. An ultra-premium, clean formula that also contains zero fat, carbohydrates, sugar and lactose. In general, isolates are the most refined protein sources, scientifically filtered to remove fats, sugars, cholesterol and carbohydrates. With Combat 100% Isolate, you enjoy the best: a delicious yet zero-carb, low-calorie, high-protein source.
MusclePharm Combat Isolate Zero features:
100% Whey Protein Isolate

Ultra-fast released protein to accelerate protein synthesis

24 grams of protein per serve

Reduce muscle breakdown and support muscle recovery

0g of Carbohydrates, Sugars and Fats

Ideal for Quick Post Workout Recovery

Gluten Free and no fillers
Cross-Flow Micro Filtration! 100% Whey Protein Isolate
Combat 100% Isolate is cross-flow micro-filtered at a low temperature to provide the undenatured protein with a full balance of bioactive whey protein fractions.
Micro filtration is key to making our higher ratio of isolate protein work harder for you. The cross-flow micro-filtration process removes the larger, less-absorbable protein molecules while also filtering out fat, lactose and ash that can be present in whey concentrates and substandard protein powders. The filtration membranes MusclePharm uses are extraordinarily fine, more effective than the equipment used in the ultra-filtration process which creates most lower-quality whey protein products.

The absolute standard in whey isolate protein is cross-flow micro-filtered whey protein isolate. MusclePharm uses its sophisticated process to produce Combat 100% Isolate, the ultra-pure protein that beats our competitors in terms of packing more protein power while maintaining an optimal macronutrutient ratio. 24 grams protein, with zero grams sugar, zero grams carbohydrates and zero grams of fat (some variation dependent on flavor).
Available Sizes:
Container Size: 900G (2Lb)
Serving Size: 1 Scoop (27g)
Servings Per Container: 33

Container Size: 2.27KG (5Lb)
Serving Size: 1 Scoop (27g)
Servings Per Container: 84
Directions:
Mix 1 Scoop with 100-150ml. of cold water, milk, juice or any beverage of your choice. Vary the amount of water to achieve your desired consistency. To increase your protein intake per serve and to achieve an amazing milkshake taste, uses non-fat or low fat milk.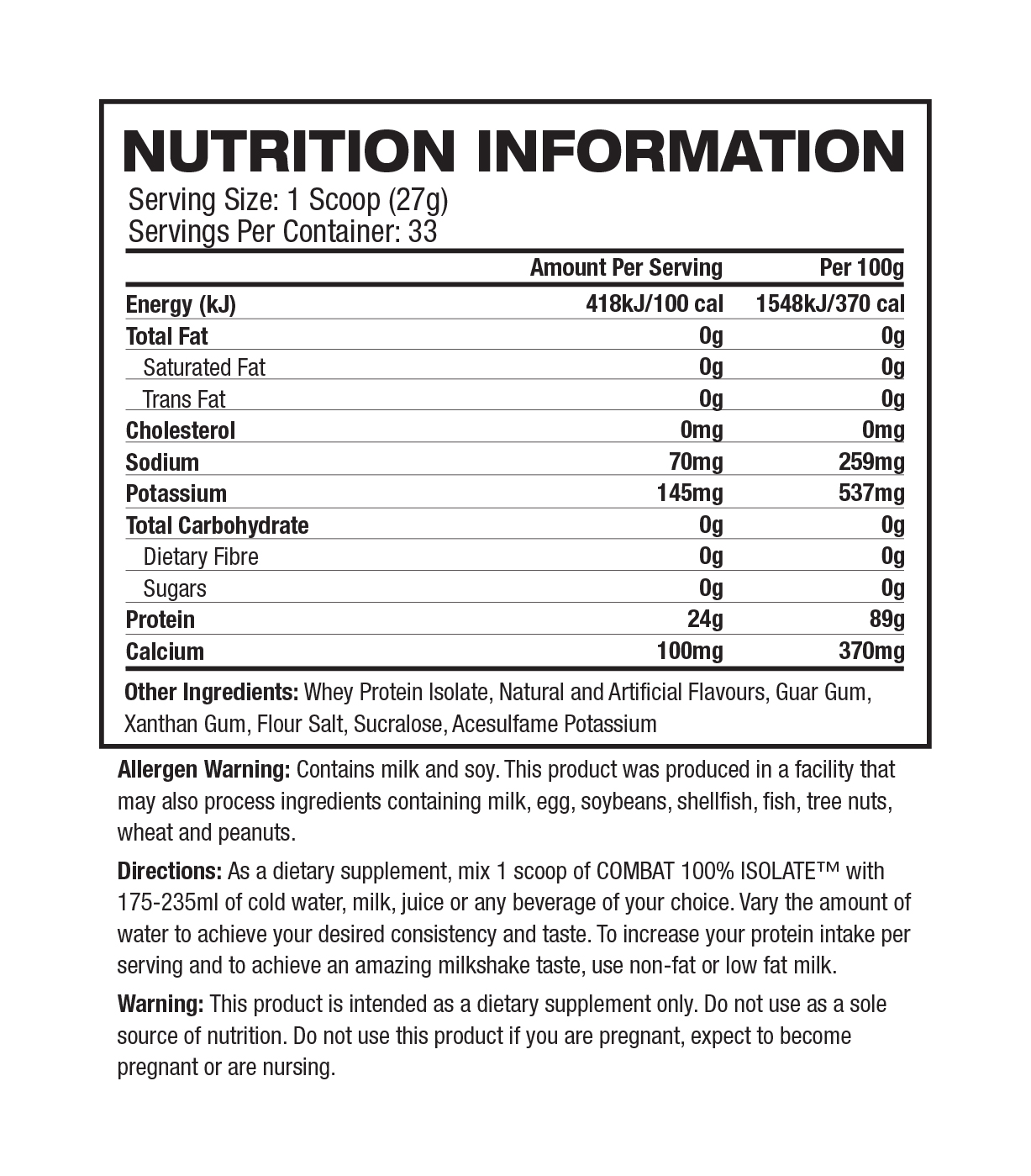 Please Note: Nutritional Information is to be used as a guide only, actual values may differ between flavours and sizes and when formulations are modified or updated by the manufacturer.
Contact us if you have any questions regarding this products ingredients.
All orders $40 and over receive Free* Shipping Nationwide
Estimated Delivery Times*:
Auckland – Overnight (However many Auckland orders are be delivered the same day depending on what time the order is placed)
North Island - Overnight
South Island – Overnight (For larger parcels allow 2 business days)
Same Day/Evening Express Shipping upgrade available at checkout for select suburbs*
Click here to view the full Shipping Details and Returns Policy.
Musclepharm Combat Isolate Zero Reviews
---