Vital Greens Vital Greens
Vital Greens Nutritional & Vitamin Support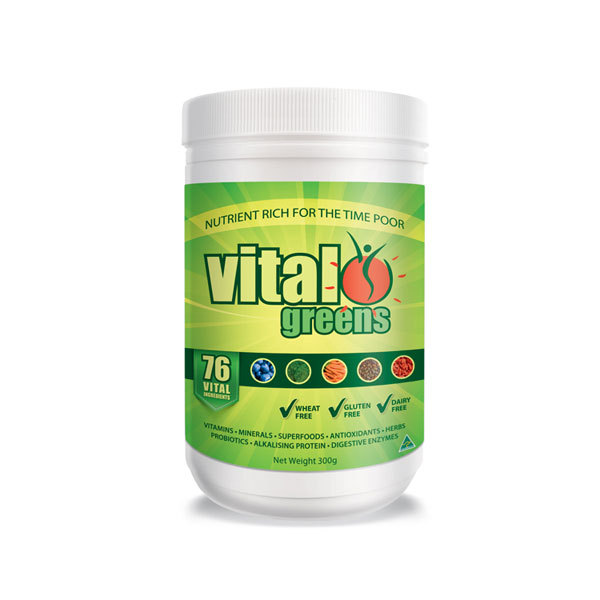 PROMOTION (1)

Vital Greens is a carefully balanced blend of nutritionally rich greens, vegetables and fruits, plus additional herbs, vitamins and minerals, powerful antioxidants, probiotics, essential amino acids, digestive enzymes and fibre. Vital Greens is suitable for the whole family and is great for anyone wanting to maintain optimum health. Vital Greens is ideal for vegetarians and vegans and for people with dietary restrictions, gluten, wheat and dairy free. This great tasting powerful multi-nutrient powder is sweetened with organic Thaumatin, a completely natural patented sweetener.
Vital Greens features:
Overall powerful super food

Boosts energy levels

Suitable for vegans and gluten intolerant

Vitamins and Minerals

Antioxidants

Herbs and Probiotics

Digestive enzymes
Vital Greens is your all-in-one daily comprehensive multi-nutrient. Two heaped teaspoons of Vital Greens are loaded with 76 minerals and vitamins, pre and probiotics, high levels of antioxidants, fibre, alkaline pea protein and essential fatty acids. All of this makes up a great, easy to take supplement to fulfill your daily nutritional requirements. Vital Greens is Dairy, Gluten and Wheat free and also contains no artificial sweeteners or flavours.
Vital Greens is made with the exact proportioned amounts of ingredients to make sure that it provides the maximum effect for the support of immunity, digestion, detoxification, intestinal health and also to provide the necessities for energy and vitality. Vital Greens provide are a boost in energy levels, suitable for gluten intolerant people and vegans and is also a powerful superfood.
Container Size: 120G
Serving Size: 2 heaped teaspoons (10g once a day)
Servings Per container: 12
Container Size: 300G
Serving Size: 2 heaped teaspoons (10g once a day)
Servings Per container: 30
Container Size: 600G
Serving Size: 2 heaped teaspoons (10g once a day)
Servings Per container: 60
Container Size: 1kg
Serving Size: 2 heaped teaspoons (10g once a day)
Servings Per container: 100
Directions:
Dissolve 2 heaped teaspoons in 200-300mls of water, non-acidic juice (apple/blackcurrant), or milk of your choice.
Ingredients:
Organic SpirulinaOrganic Apple Powder
Organic Chlorella Powder
Organic Alfalfa Powder
Organic Wheatgrass Powder
Organic Barley Leaf Powder
Acerola Fruit Extract
Carica Papaya Powder
Broccoli Powder
Pineapple Fruit Juice Extract
Bilberry Fresh Fruit Extract
Rosehip Beet Powder
Red Beet Powder
Carrot Root Powder
Spinach Leaf Powder
Licorice Root Powder
Wolfberry (Goji) Fruit Extract
Hawthorne Fruit Extract
Kelp Whole Plant Powder
Citric Acid
RS Alpha Lipoic Acid
Astragalus Root Extract
Grape Seed Extract
Green Tea Extract
Cocoa Bean Polyphenol Extract
Rosemary Leaf Extract
Beta Glucans
Reishi Mushroom Powder
Shiitake Mushroom Powder
Resveratrol
Citrus Bioflavanoid Extract
Vitamin C
Calcium
Potassium
Vitamin E
Magnesium
Vitamin B3
Silica
Zinc
Co-Enzyme Q-10
Vitamin B5
Vitamin B6
Vitamin B1
Vitamin B2
Vitamin B3
Pro Vitamin A
Manganese
Vitamin B7
Vitamin B9
Copper
Selenium
Vitamin B12
Chromium
Vitamin D2
Rice Bran Powder
Milk Thistle Extract
Dandelion Whole Plant Extract
Burdock Root Extract
Globe Artichoke Extract
Inulin (FOS prebiotics)
Ginger Rhizome Powder
Bromelain
Slippery Elm Bark Powder
Lactobacillus Acidophilus
Bifidobacterium Bifidum
Papain (from Carica Papaya and Pineapple)
Siberian Ginseng Extract
Lecithin (95% phosphatides)
Organic Flaxseed Powder
Gotu Kola Extract
Withania Somnifera (Ashwaganda)
100% Vital Pea Protein Isolate
All Natural Base: Papaya, Broccoli, Carrot, Pineapple, Natural Vanilla, Organic Thaumatin (Natural Sweetener)
Warning:
Vitamin supplements should not replace a healthy diet. Do not take whilst on warfarin therapy without medical advice. We recommend consulting with a health care professional whilst pregnant or lactating.
Free Shipping Nationwide:
FREE EXPRESS SHIPPING – NEW ZEALAND WIDE
TRACK AND TRACE TO YOUR FRONT DOOR
Click here to view the full Shipping Details and Returns Policy.