Platinium Labs Optiburn Amped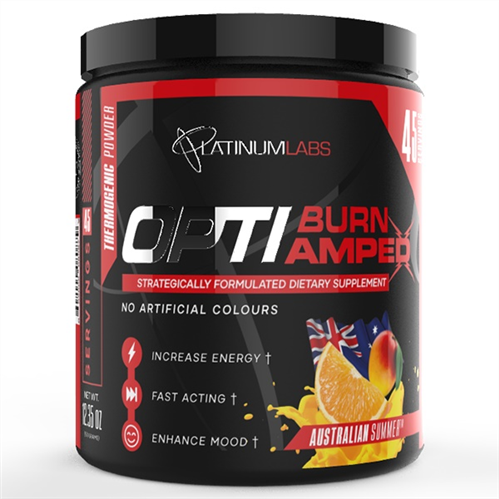 PROMOTION (1)

Platinum Labs OptiBurn Amped is a high strength, thermogenic fat loss powder with added fat metabolisers and essential fatty acids (EFAs). Thermogenic fat loss powders increase your base metabolic rate, which causes an increase in energy levels and forces your body to burn more calories throughout the day. Fat metabolisers help transport stored body fat into muscle cells where it can be burned for energy, while EFAs help block the storage of body fat from the foods that you eat. Combined with a sensible dieting and training regime, Platinum Labs OptiBurn Amped will help you burn fat... and a lot of it!
Platinum Labs Opti Burn Amped features:
Contains raspberry Keytones

Contains Acetyl L-Carnitine

Contains Green Tea Extract

Available in three delicious flavours
OptiBurn is the first ever fat burner to contain Nelumba Nucifera or "Indian Lotus" concentrated extract. This herb has been used for thousands of years to treat many ailments throughout the East, and brewed in a tea promote general well-being and euphoria. This is the secret to the unmistakable "OptiBurn feel" that all our customers have been raving about!
Container: 360 Grams
Serving Size: 1 Scoop (7.8g)
Servings Per Container: 45
Free Shipping Nationwide:
FREE EXPRESS SHIPPING – NEW ZEALAND WIDE
TRACK AND TRACE TO YOUR FRONT DOOR
Delivery Times
North Island - Overnight
South Island - +1 Business day
(Overnight delivery service available during check out) Rural - +1 Business day from the above times
Orders need to be placed before 3.30pm to make it on the final courier of the day
Click here to view the full Shipping Details and Returns Policy.
Platinium Labs Optiburn Amped Reviews
---
Hitmonchan

Published Friday, 10 May 2019

7/10 Lemon Lime

Not really a review coz only taken it twice but most claims seem on point already! Noticed energy kick, better focus & weird I know but noticed a distinct lift in mood. Also a great appetite suppressant. Can't wait to see how it works fat wise. L&L flavour looks like sand & sorta burns the throat a bit but had far worse! Keep pumping out there :-)

Shannon

Published Wednesday, 24 October 2018

I love this. I took in the morning and it just made the start to the day so much better, no highs, no crashes. Not sure I would rate it for weight loss but it definitely is mood enhancing