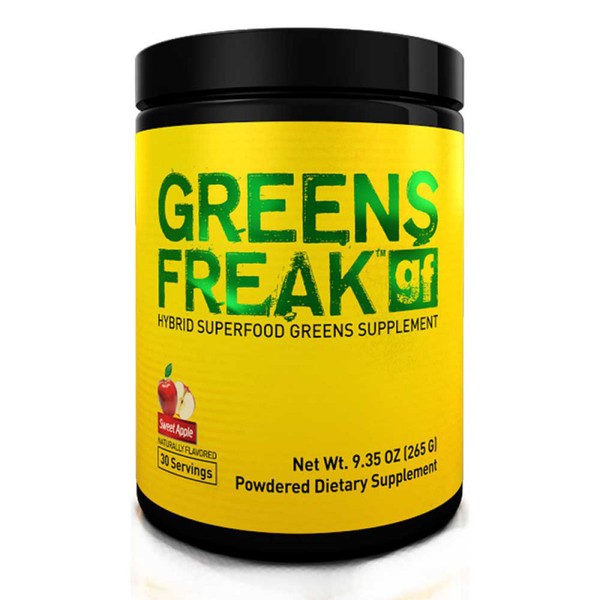 Pharmafreak Green Freak is the most complete superfood greens formula of its kind! Every ingredient and complex found in Green Freak has a specific function to help support optimal health and performance! Nothing is more complete! Greens Freak is loaded with the world's most concentrated super green foods which include, Barley, Alfalfa and Wheat grass, Spirulina and High-CGF Chlorella.
Green Freak features:
1.5g Hawaiian spirulina
1g High-CFG chlorella
1.5g Alfalfa, barley & wheat
Naturally flavoured Loaded with top-quality superfoods
Continer Size: 30
Serving Size: 1 Scoop (8.9g)
Servings Per Container: 30
Directions: As a dietary supplement, adults take 1 scoop daily to support your micronutrient needs.
Amount Per Serving:
Vitamin E (as DL-alpha-tocopherol acetate) 100IU
Spirulina (Arthrospira maxima) (whole cell) 1.5g
60% Amino Acid Content
Chlorella (Chlorella vulgaris) (whole cell) 1g
High-Chlorella Growth Factor (CGF), Cracked-Cell Wall
Alfalfa (Medicago sativa) (leaf) 500mg
Barley (Hordeum vulgare) (leaf) 500mg
Wheat (Triticum aestivum) (leaf) 500mg
Wheat Grass (non-grain)
Apple Pectin (Malus domestica) (fruit) 500mg
Apple Fiber (Malus domestica) (fruit) 500mg
Sprouted Super Grains Complex 500mg
Wheat (Triticum aestivum) (sprout)
Wheat Grass (non-grain)
Rice Bran (Oryza sativa) (seed)

Complete Superfoods Complex 475 mg
Bee Pollen (Apis mellifera) (secretion)
Spinach (Spinacia oleracea) (whole plant)
Acerola (Malpighia glabra) (fruit)
Parsley (Petroselinum crispum) (leaf)

Red Superfoods Complex 450mg
Beet Juice (Beta vulgaris) (root)
Dulse (Palmaria palmate) (whole cell)

Full Spectrum Antioxidant Complex 350mg
Barley (Hordeum vulgare) (seed)
Ginkgo (Ginkgo biloba) (leaf) Extract
Standardized to 24% Flavonoid Glycosides & 6% Terpene Lactones
Grape Seed (Vitis vinifera) Extract
Green Tea Extract (Camellia sinensis) (leaf)
Standardized to 50% Polyphenols

Immune Support Complex 220mg
Echinacea angustifolia (root)
Astragalus (Astragalus membranaceus) (root)
Royal Jelly (Apis mellifera) (secretion)
3.3:1 Concentrated Potency

Adaptogen & Adrenal Support Complex 210mg
Eleuthero (Eleutherococcus senticosus) (root)
Licorice (Glycyrrhiza glabra) (root)
Suma (Hebanthe eriantha) (root)

Proprietary Probiotic Culture Complex 150mg
Lactobacillus Acidophilus
Lactobacillus bulgaricus
Bifido bifidum
Bifido longum
Streptococcus thermophilus

Proprietary Digestive Enzyme Complex 125mg
Bromelain
Papain
Pepsin
Lipase
Protease
Liver Support Complex 60mg

Free Shipping Nationwide:
FREE EXPRESS SHIPPING – NEW ZEALAND WIDE
TRACK AND TRACE TO YOUR FRONT DOOR
Delivery Times
North Island - Overnight
South Island - +1 Business day
(Overnight delivery service available during check out) Rural - +1 Business day from the above times
Orders need to be placed before 3.30pm to make it on the final courier of the day
Click here to view the full Shipping Details and Returns Policy.