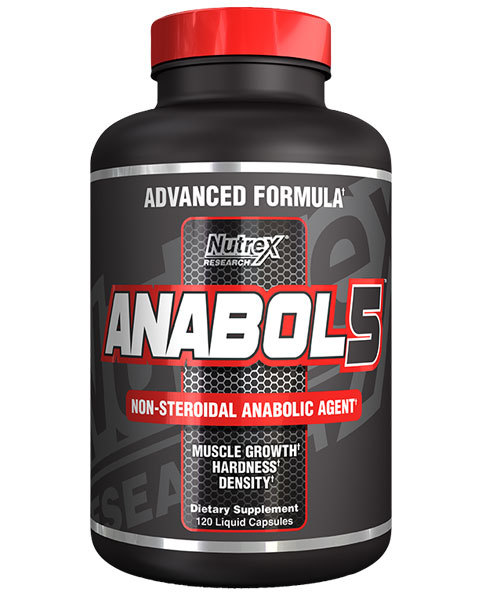 Nutrex Anabol-5 Black is a powerful non-steroidal anabolic agent. It is for those who are seeking to build lean, dense high quality muscles with extra hardness. By helping to create an anabolic environment Anabol-5 assists in increasing the amount of protein a muscle can synthesize.
When used in combination with intense weight training the adaptogenic properties of Anabol-5 help stimulate anabolism and combat muscular fatigue. Anabol-5 supports the body's own protein building cycle on a non-hormonal non-steroidal level. We recommend a high protein diet for best results.
Nutrex Anabol-5 Black features:
Supports muscle protein synthesis
For lean muscles with exceptional hardness and quality
Fast absorbing liquids capsules
Full 30 day cycle
Container Size: 120 Capsules
Serving Size: 2 Capsules
Servings Per container: 60

Directions:
Take 2 multi-phase capsules twice per day. For best results take two multi-phase capsules in the morning with a meal and two more multi-phase capsules with an evening meal. Anabol-5 is best used in cycles. The suggested cycle length is 12 weeks followed by a 2 week break.
Ingredients:
NON-STEROIDAL ANABOLIC MULTI-PHASE STACK 155.2mg
Dicyclopentaneone
6-Keto-Diosgenin Acetate; Propionate; Cypionate; Decanoate
25-R Spirostan-5a-diol-6-one-3-one-undecanoate
Rhamponticum Carthamoides
Hecogenin Acetate
*Percent Daily Values are based on a 2,000 calorie diet.

Other Ingredients:
Glycerin, Vegetable Cellulose, mixed tocopherols, titanium dioxide, FD&C yellow #5, FD&C yellow #6
Free Shipping Nationwide:
FREE EXPRESS SHIPPING – NEW ZEALAND WIDE
TRACK AND TRACE TO YOUR FRONT DOOR
Delivery Times
North Island - Overnight
South Island - +1 Business day
(Overnight delivery service available during check out) Rural - +1 Business day from the above times
Orders need to be placed before 3.30pm to make it on the final courier of the day
Click here to view the full Shipping Details and Returns Policy.