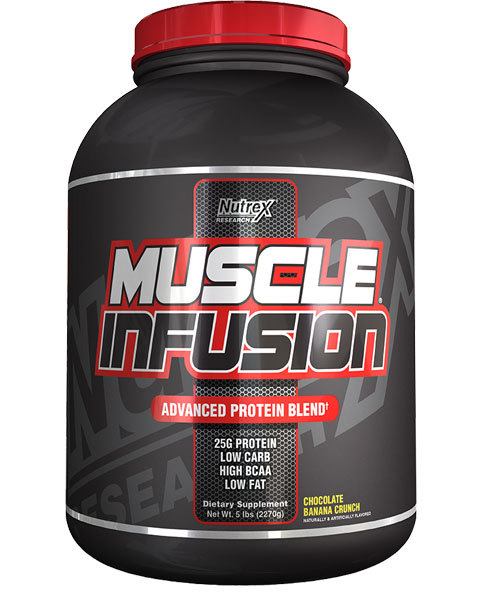 Nutrex Muscle Infusion is an advanced protein formula supplying your muscles with 25 grams of high-quality protein per serving. Rather than just focusing on a single protein source Muscle Infusion is packed with six different proteins. These come in fast absorbing whey proteins as well as slower digesting milk and egg protein fractions. Together they provide a fast yet sustained supply to your muscles.
Nutrex Muscle Infusion Protein features:
25 grams of high quality protein per serving
Packed with 6 different proteins
High in BCAA's and essential Amino Acids
Low in fat and carbohydrates
Tastes absolutely delicious
Muscle Infusion is high in essential amino acids which are the true building blocks of muscle. It's a great source of glutamine and it delivers over 5 grams of pure BCAAs per serving. Each scoop is also fortified with a comprehensive vitamin and mineral spectrum. Special protein digesting enzymes have been added to help ensure a most efficient turn-over from nutritional protein to muscle protein.
To support your quest for lean muscles, Muscle Infusion is very low in fats and carbohydrates. It tastes absolutely delicious and mixes easily with a spoon.
Container Size: 2.27KG (5LB)
Serving Size: 1 Scoop (38g)
Servings Per container: 58 - 60
Amout Per Serve:
Calories 150
Calories From Fat 20
Total Fat 2.5g
Saturated Fat 1g
Trans Fat 0g
Cholesterol 31mg
Sodium 230mg
Potassium 280mg
Total Carbohydrate 6g
Dietary Fiber 1g
Sugars 2g
Protein 25g
Vitamin A 2,111 IU
Vitamin C 25mg
Vitamin D 158 IU
Vitamin E 10 IU
Vitamin K 15 mcg
Vitamin B1 .63 mg
Vitamin B2 .48 mg
Niacin 5mg
Vitamin B6 1mg
Folic Acid 52 mcg
Vitamin B12 1 mcg
Biotin 89 mcg
Pantothenic Acid 2mg
Calcium 108 mg
iron 2 mg
Phosphorus 304 mg
Iodine 52mcg
Manganese 105mg
Zinc 1 mg
Copper .11 mg
Magnesium 105 mg
Chloride 133 mg
Other Ingredients:
Lean Muscle-Building Blend (Ultra-Filtered Instantized Whey Protein Concentrate, Micro-Filtered Instantized Whey Protein Isolate, Instantized & Hydrolized Whey Protein, Instantized Egg Albumin, Instantized Micellar Alpha & Beta Caseins And Caseinates, Instantized Milk Protein Isolate, Instantized Calcium Caseinate), Cocoa (Alkali Processed), Protein Turn-Over Supporting Critical Vitamin & Mineral Interblend (Dicalcium Phosphate, Sodium Chloride, Magnesium Oxide, Ferrous Fumarate, Ascorbic Acid, DL-Alpha Tocopheryl Acetate, Zinc Oxide, Biotin, Manganese Sulfate, Selenium Amino Acid Chelate, Copper Gluconate, D-Calcium Pantothenate, Phytonadione, Riboflavin, Thiamin, Chromium Nicotinate, Cholecalciferol, Pyridoxine HCL, Folic Acid, Cyanocobalamin, Potassium Iodine), Guar/Xanthan Gums, Natural And Artificial Flavors, Lecithin, Silicon Dioxide, Sucralose, Acesulfame Potassium, Massive Protein Digesting Enzyme Dual-
Free Shipping Nationwide:
FREE EXPRESS SHIPPING – NEW ZEALAND WIDE
TRACK AND TRACE TO YOUR FRONT DOOR
Delivery Times
North Island - Overnight
South Island - +1 Business day
(Overnight delivery service available during check out) Rural - +1 Business day from the above times
Orders need to be placed before 3.30pm to make it on the final courier of the day
Click here to view the full Shipping Details and Returns Policy.