Nutra-Life Winter Multi One-A-Day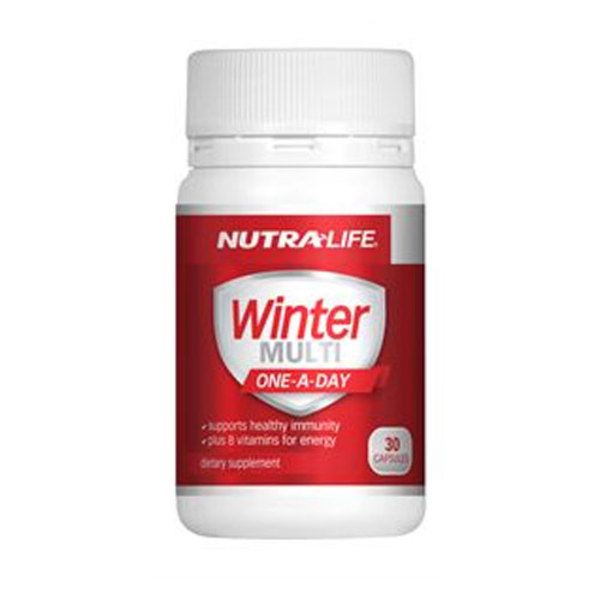 Nutralife Winter Multi One-A-Day formula is a potent Winter multivitamin and mineral complex that supports healthy immunity and energy levels over the winter months. It is formulated with powerful antioxidants that help protect bodies against potential free radical damage. It provides four immune-supporting nutrients: Astragalus, Olive Leaf, Zinc and Vitamin C, plus contains B-complex vitamins to maintain healthy energy levels and overall nervous system health.
Nutralife Winter Multi One-A-Day features:
Supporting healthy immune function and energy levels
Providing busy people with a daily vitamin, mineral and antioxidant boost
Assisting with the stress, fatigue and burn-out that can result from low nutrient intakes
Container Size:30 Caps
Serving Size: 1 Cap
Serves Per Container: 30 Caps
Directions:
Amount Per Serve:
Astragalus (Astragalus membranaceus) root 1g
Olive (Olive europaea) leaf 1g
Stand. equiv Oleuropein 24mg
Minerals
Selenium (from Selenomethionine) 25mg
Zinc (as amino acid chelate) 7.5mg
Vitamins
Betacarotene 1.5mg
Thiamine hydrochloride 17.5mg
Equiv. Vitamin B1 (Thiamine) 14mg
Vitamin B2 (Riboflavin) 14mg
Nicotinamide 14mg
Calcium pantothenate 22.2mg
Equiv. Vitamin B5 (Pantothenic acid) 20mg
Pyridoxine hydrochloride 17mg
Equiv. Vitamin B6 (Pyridoxine) 14mg
Vitamin B12 (Cyanocobalamin) 20mg
Folic Acid 120mg
Biotin 20mg
Vitamin C (Ascorbic acid) 50mg
Encapsulating aids
Free Shipping Nationwide:
FREE EXPRESS SHIPPING – NEW ZEALAND WIDE
TRACK AND TRACE TO YOUR FRONT DOOR
Delivery Times
North Island - Overnight
South Island - +1 Business day
(Overnight delivery service available during check out) Rural - +1 Business day from the above times
Orders need to be placed before 3.30pm to make it on the final courier of the day
Click here to view the full Shipping Details and Returns Policy.
There are not yet any reviews on this product.