Nutra-Life Natural Daily Protein Shake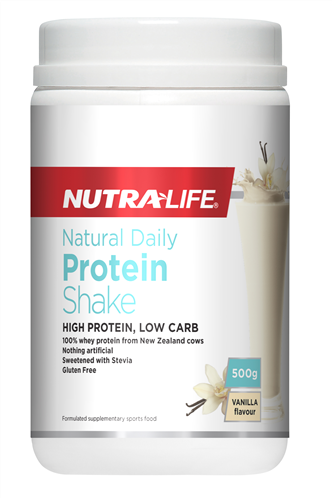 Nutra-Life Natural Daily protein shake is you natural daily protein shake. Will help you feel fuller for longer and supports healthy weight management.
Nutra-Life Natural Daily features:
Growth and maintenance of muscle

Tissue building and repair

Maintenance of bones
Key Features and Benefits:
All natural, 100% New Zealand whey protein (WPI & WPC)Features

High Protein, Low Carb formula

23g protein & 1.8g carbohydrates per serve

Low fat: 2g fat per 200ml serve

123 calories per serve

Gluten free

Nothing artificial

16 serves per pack
Amino acids are the building blocks of protein. When we consume protein, it is broken down into individual amino acids, which are then used as the material to rebuild muscle and body tissue, and produce hormones and DNA. Essential amino acids are not able to be made by the body, and must be sourced from our food. Some amino acids become essential under certain conditions such as in those who are highly active or require additional protein for repair eg. post-surgery. Non-essential amino acids can be made by the body from our dietary supply, or from existing tissues in the body.
Nutra-Life Natural Daily Protein Shake provides a good source of complete protein which can support muscle recovery and repair after exercise. It also contains a good level of essential amino acids, including the BCAAs (Branched Chain Amino Acids) Leucine, Isoleucine and Valine, which are present in high amounts in muscle tissue, and are important for muscle recovery.
Container Size: 500G
Serving Size: 30g
Servings Per Container: 16
Directions:
Consume 1-3 serves per day. Add 30g
(3 level scoops) to 200mL water. Shake or blend until mixed and serve. May also be added to other foods to increase protein content. For a delicious smoothie blend with yoghurt, milk of your choice, ice and fresh or frozen berries.
Amount Per Serve: (Vanilla)
Average Quantity Average Quantity Per 30g Serve Per 100g
Energy 513kJ(123 cal) 1710kJ(409 cal)
Protein 24.0g 80.0g
Fat, Total 2.0g 6.6g
-Saturated 1.4g 4.6g
Carbohydrate 1.8g 6.1g
-Sugars 1.7g 5.6g
Sodium 42mg 139mg
Gluten Nil detected Nil detected
Branched Chain Amino Acids
Leucine 2.5g 8.3g
Isoleucine 1.5g 5.1g
Valine 1.4g 4.6g
Other Essential Amino Acids
Lysine 2.1g 6.9g
Methionine 0.6g 1.8g
Phenylalanine 0.8g 2.6g
Threonine 1.6g 5.4g
Tryptophan 0.5g 1.5g
Other Amino Acids
Alanine 1.2g 3.9g
Glycine 0.5g 1.5g
Histidine 0.4g 1.5g
Proline 1.4g 4.7g
Cystine 0.6g 2.1g
Tyrosine 0.7g 2.5g
Serine 1.2g 3.9g
Aspartic Acid 2.5g 8.2g
Glutamic Acid 4.1g 13.5g
Arginine 0.6g 2.0g
Ingredients:
Vanilla Powder: Protein Blend (99%) [whey protein concentrate, whey protein isolate, emulsifier (soy or sunflower lecithin)], natural flavours, sweetener (steviol glycosides)
Contains: Milk and soy products
Formulated Without:
Artificial colours, artificial flavours, artificial sweeteners or preservatives.
Free Shipping Nationwide:
FREE EXPRESS SHIPPING – NEW ZEALAND WIDE
TRACK AND TRACE TO YOUR FRONT DOOR
Delivery Times
North Island - Overnight
South Island - +1 Business day
(Overnight delivery service available during check out) Rural - +1 Business day from the above times
Orders need to be placed before 3.30pm to make it on the final courier of the day
Click here to view the full Shipping Details and Returns Policy.
There are not yet any reviews on this product.