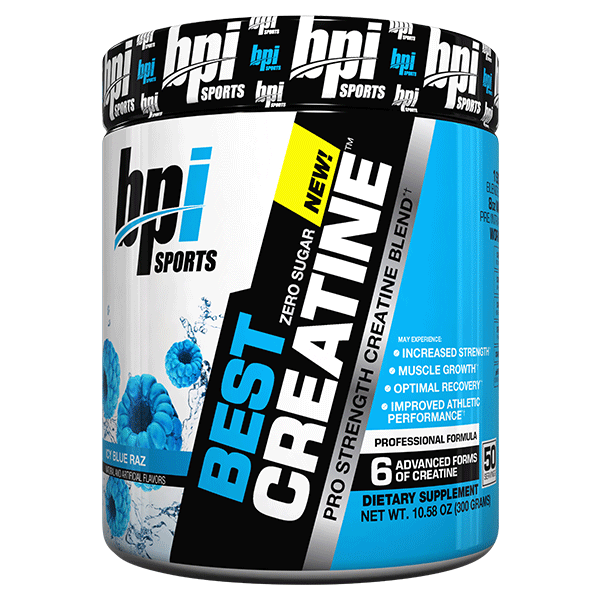 BPI Sports Best Creatine is an advanced creatine formula, designed to fuel workouts, promote improved muscle gains and increase strength. Creatine can fuel your workouts, promoting improved muscle gains, increased strength, performance and recovery. With 6 different forms of creatine, combined with synergistic key ingredients to maximize creatine absorption, BPI Sports Best Creatine is your professional strength muscle building supplement.
BPI Sports Best Creatine features:
Help increase strength

Muscle recovery

Optimal recovery

Improve athletic performance
Creatine Monohydrate
The most heavily researched and trusted form of creatine, backed by hundreds of studies. No other form of creatine has been shown to be more effective over time.
Creatine Magnapower
Creatine bonded to pure magnesium, thus potentially enhancing the bioavailability of creatine. Magnesium is an essential muscle nutrient that is partially responsible for cellular hydration.
Creatine AKG
Creatine bound to AKG, or alpha-ketoglutarate, a precursor of glutamine. The bonding potentially enhances creatine absorption as well as providing glutamine, an amino acid crucial for muscle growth and recovery.
Creatine Anhydrous
Creatine monohydrate with the water molecule removed. This gives you more creatine than monohydrate on a gram per gram basis.
Creatine Phosphate
Creatine bonded to phosphate, or the most common form of phosphorous. It is the most abundant intracellular anion in the body. It is critical for membrane structure, transport and energy storage.
pH Buffered Creatine Alkline
Utilizes a pH Buffering Technology to help balance pH levels at closer to neutral, which may in turn stop the unwanted conversion of creatine to creatinine, and enhance overall creatine absorption.


Container Size: 300G
Serving Size: 1 Scoop (6g)
Servings Per Container: 50
Directions:
Take one (1) serving (1 scoop) blended into 300ml of ice cold water, either before, during, or after workout, or as directed by a qualified healthcare practitioner. On non-training days, take one (1) serving (1 scoop) first thing in the morning, on an empty stomach, or as directed by a qualified healthcare practitioner.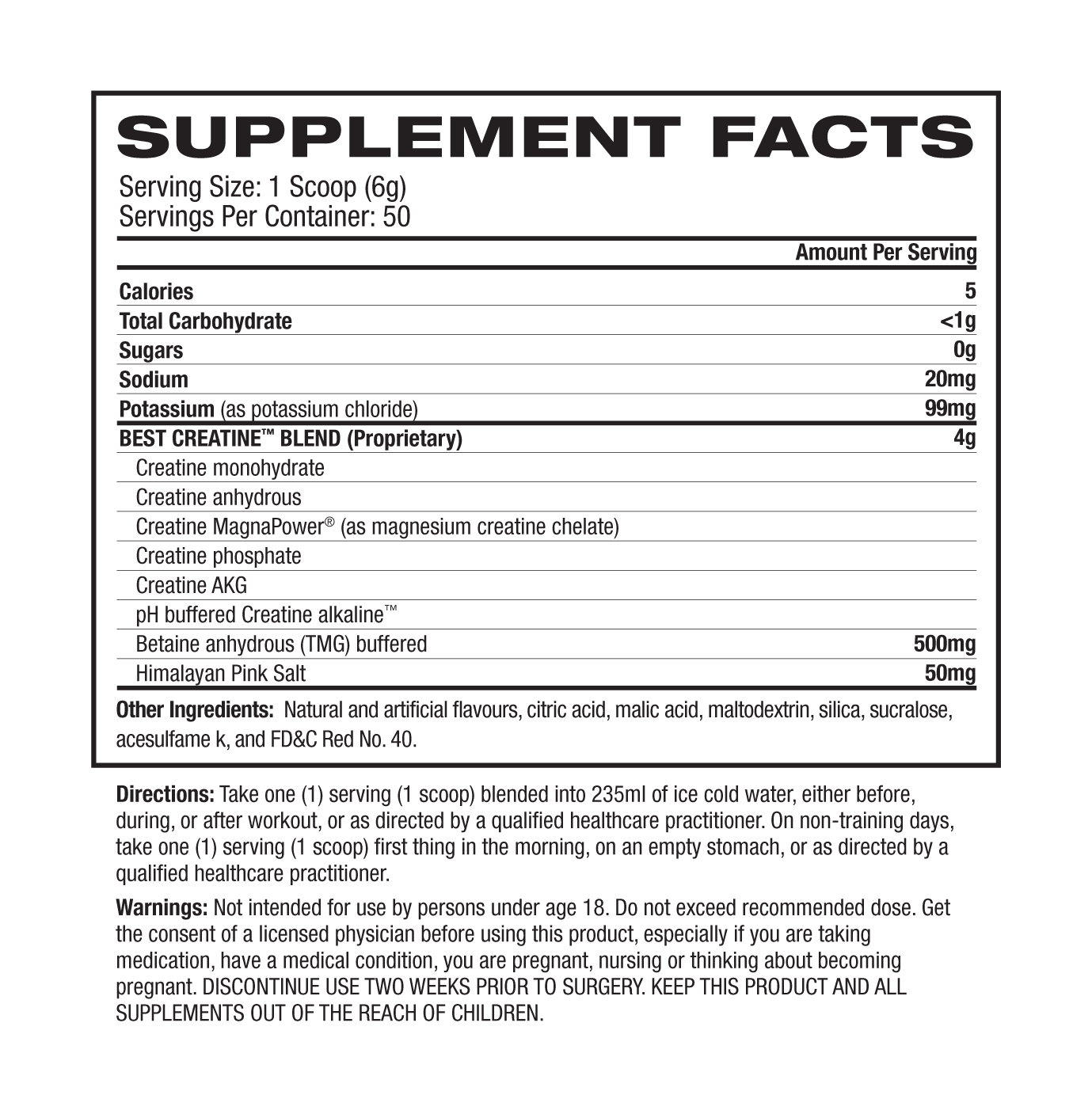 Free Shipping Nationwide:
FREE EXPRESS SHIPPING – NEW ZEALAND WIDE
TRACK AND TRACE TO YOUR FRONT DOOR
Delivery Times
North Island - Overnight
South Island - +1 Business day
(Overnight delivery service available during check out) Rural - +1 Business day from the above times
Orders need to be placed before 3.30pm to make it on the final courier of the day
Click here to view the full Shipping Details and Returns Policy.
Bpi Sports Best Creatine Reviews
---