Run Everything Labs Stw Show The World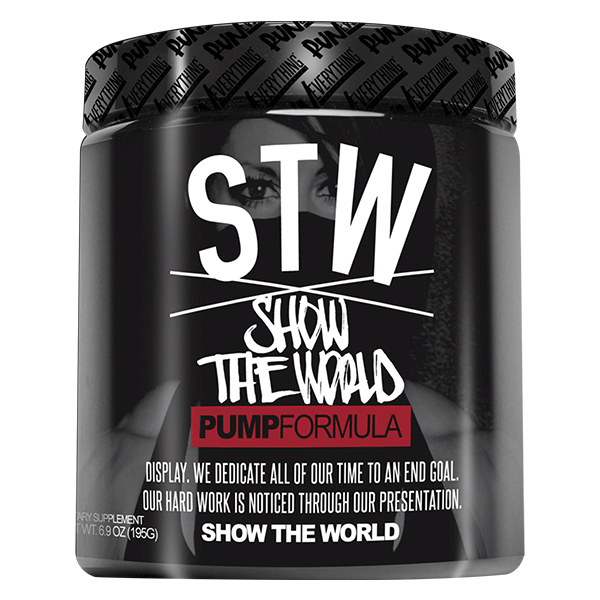 Run Everything Labs - STW is your chance to display your hard work. They wanted to create a high quality, stim-free, great tasting, properly dosed nitric oxide promoter; so they did. STW is the result of what happens when you combine all of the potent blood and cell volumizers on earth. Whether you're hitting back, chest, arms or a muscle that usually doesn't catch a good pump, Run Everything Labs - Show The World will deliver.
Run Everything Labs - STW ingredients:
Non stimulant formula

Citrulline Malate 2:1: Citrulline Malate supports increases in lean mass, enhanced performance through ATP production and cell volumization. Citrulline Malate also assists in blood flow and amino acid delivery to skeletal muscle. Leading to improved muscle protein synthesis (muscle growth) and spare muscle by making Leucine and other branched chain amino acids more effective.

Agmatine Sulfate: Agmatine sulfate is a nitrous oxide promoter, that assists in blood flow while supporting a positive mood, insulin sensitivity, and performance.

L-Norvaline: L-Norvaline supports arginine concentrations within the body, ultimately assisting in the regulation of blood flow and nitric oxide.

N-Methyl D-Aspartic Acid: N-Methyl-D-Aspartic Acid is created in the body from D-Aspartic Acid. In the testes and the part of the brain that controls the testes, N-Methyl-D-Aspartic Acid is a signaling substance that induces cells to increase their activity.

Epicatechin: Epicatechin is a substance found naturally occurring in cocoa beans and commercially eaten in dark chocolate. Epicatechin has been scientifically found to interfere with our muscles release of myostatin, by releasing another molecule called follistatin.
Nitric Oxide boosting ingredients like those found in STW are highly active vasodilators, which open up the blood vessels allowing for more blood to circulate to and from the muscle. This allows for potent muscle building nutrients and amino acids to repair muscle cells while training and sustain your pump long after you've left the gym. Being that STW is stimulant free, it can be mixed with our EWP Pre-Workout for insane results. There is nothing better than the feeling of being full and having a good pump.


Container Size: 195G
Serving Size: 1 Scoop (6g)
Servings Per Container: 30 Serves
Directions:
As a dietary supplement, take one (1) serving (1 scoop) of STW (Show The World | Pump Formula) mixed with 235ml of cold water or beverage 20-30 minutes prior to training. For maximal results, STW can be taken in conjunction with EWP (Enter With Purpose Pre Workout). for optimal results, take this supplement along with a properly nutritious diet and stay fully hydrated.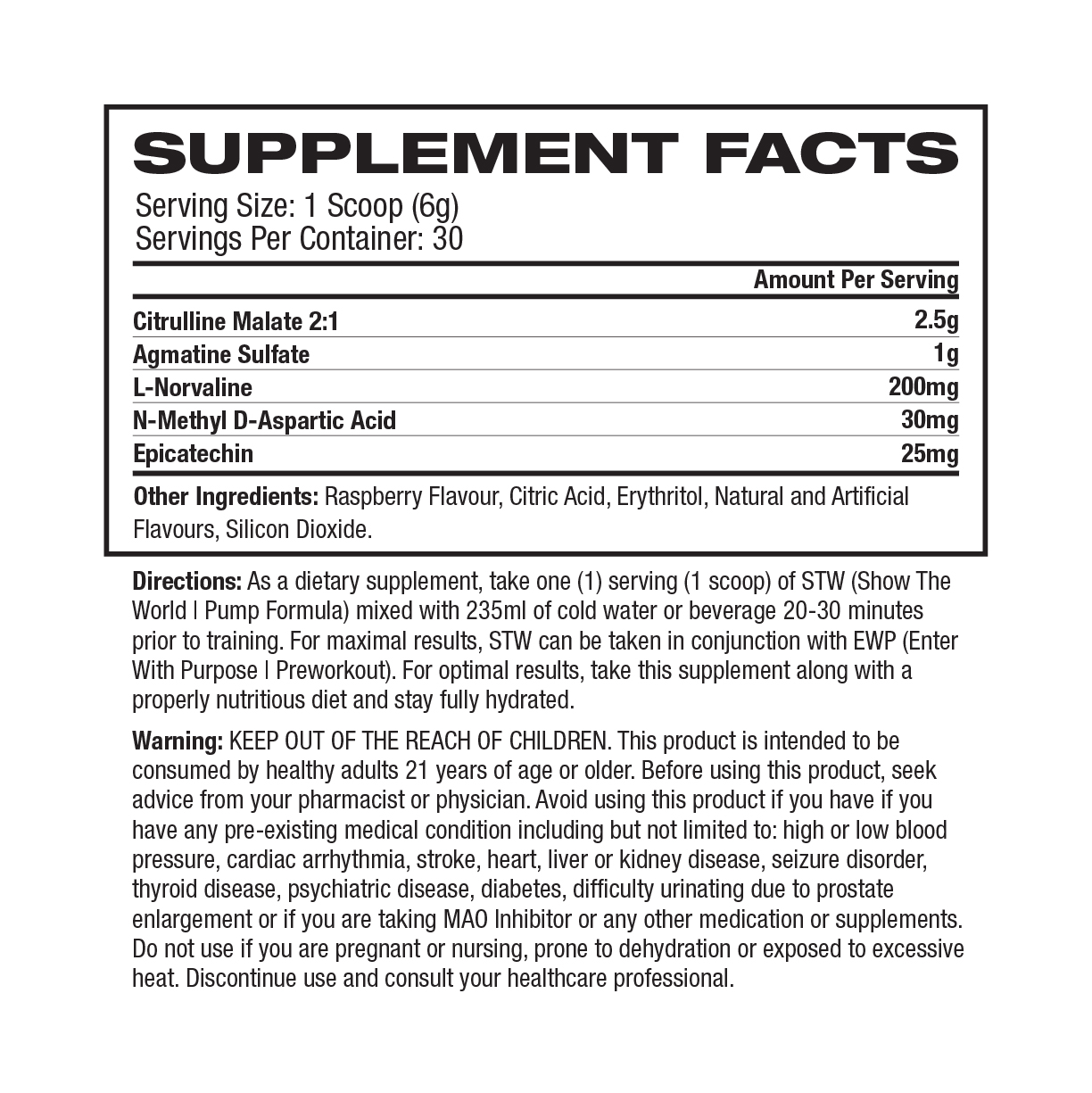 Free Shipping Nationwide:
FREE EXPRESS SHIPPING – NEW ZEALAND WIDE
TRACK AND TRACE TO YOUR FRONT DOOR
Delivery Times
North Island - Overnight
South Island - +1 Business day
(Overnight delivery service available during check out) Rural - +1 Business day from the above times
Orders need to be placed before 3.30pm to make it on the final courier of the day
Click here to view the full Shipping Details and Returns Policy.
There are not yet any reviews on this product.