Balance 100% Pure L-Glutamine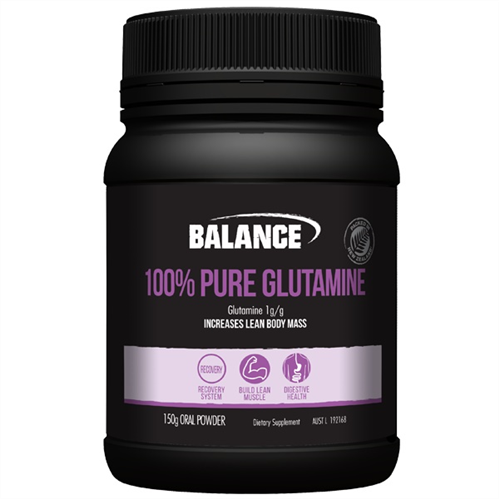 Balance 100% Pure L-Glutamine is the most abundant amino acid in muscle tissue, yet it is easily depleted during strenuous activity. Glutamine stimulates the synthesis and inhibits the degradation of proteins in the body. Glutamine supports muscle growth and aids athletes' goal for lean body mass, while maintaining a healthy immune system and digestive tract
Glutamine is considered a 'conditionally essential' amino acid. This means that, under normal circumstances, the body is able to make all the glutamine required, but during exercise or at other times of metabolic stress (injury and illness) the body's ability to make glutamine may not match demands, and provision in the diet then becomes essential.
Balance 100% Pure L-Glutamine features:
Aids recovery post intense exercise and training

May shorten recovery periods post exercise

Supports the immune system

Helps build lean muscle tissue

Single ingredient product

L-Glutamine (100%)
Increasing dietary intake of glutamine through supplementation has many benefits for the athletes. Firstly and most importantly, it helps to maintain positive nitrogen balance, an environment that promotes muscle growth within the body. Glutamine also promotes cellular hydration. When it is stored in the muscle cell, it causes water uptake into the cell, which helps encourage protein synthesis and glycogen storage.
Balance 100% Pure L- Glutamine is ideal for athletes and active individuals that want to gain muscle and help prevent the risk of muscle wasting.

Sprint Fit recommends for Muscle Growth, stack with Balance WPI Pure Protein, or Balance 100% Pure Beta Alanine for maximum results.
Available Sizes:
Container Size: 150G
Serving Size: 1 Teaspoon (5g)
Servings Per Container: 30
Container Size: 500G
Serving Size: 1 Teaspoon (5g)
Servings Per Container: 100
Directions:
Add 1 tablespoon (5g Glutamine) to food or cold beverage. Stir and serve. Use up to 3 serves daily, including one serving after exercise.
Amount Per Serve:
Energy 85kJ (20Cal)
Protein 5.0g
Fat Total 0.0g
Saturated 0.0g
Carbohydrate 0.0g
Sugars 0.0g
Sodium 0mg
L-Glutamine 5g
Ingredients:
L-Glutamine (100%)
Please Note: Made in New Zealand from imported ingredient
Free Shipping Nationwide:
FREE EXPRESS SHIPPING – NEW ZEALAND WIDE
TRACK AND TRACE TO YOUR FRONT DOOR
Delivery Times
North Island - Overnight
South Island - +1 Business day
(Overnight delivery service available during check out) Rural - +1 Business day from the above times
Orders need to be placed before 3.30pm to make it on the final courier of the day
Click here to view the full Shipping Details and Returns Policy.
Balance 100% Pure L-Glutamine Reviews
---