Doctors Best Epicor 500Mg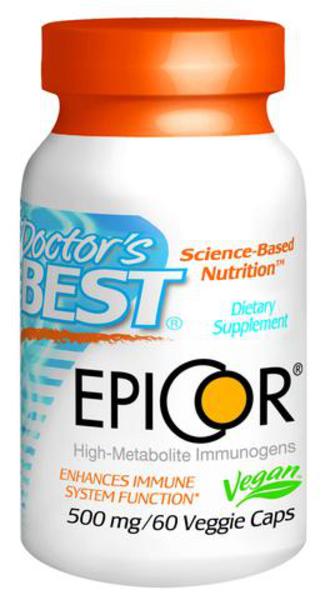 Doctors Best EpiCor 500mg is chemically dried yeast that works brilliantly in supporting cellular health in order to improve body immunity. It is a highly metabolite immunogen that is effective in influencing cellular processes for the good. It is derived from Saccharomyces cerevisiae, which is a non-pathogenic yeast and works on multiple levels to improve overall human health.
Doctors Best EpiCor 500mg features:
A unique immune balancer

High metabolite immunogen: Unique Nutrient Profile

Shown to activate natural killer (NK) cells in vitro

Helps increase IgA levels

Antioxidant power

Supports gut health
Enhances immune system function:
EpiCor is a ground breaking immune ingredient with published human research on strengthening the immune system. Unlike other immune ingredients that simply boost, Epicor works on multiple levels to help maintain more healthy days. The immune system is very complex and requires a solution that helps address everyday immune challenges. EpiCor's rare capacity to both down-regulate and up-regulate specific immune pathways is consistent with its overall support for healthy immunity.
Unique nutrient profile:
Its diverse array of beneficial metabolites sets EpiCor apart from other Saccharomyces products. EpiCorcontains phospholipids, unsaturated fatty acids, flavonoids and other natural polyphenols, phytosterols, beta-glucans, mannan oligosaccharides, amino acids, vitamins, minerals, and other nutrients. It also has excellent antioxidant activity, typically scoring 450-650 in the Oxygen Radical Absorbance Capacity (ORAC) assay (hydrophilic).
Gut health:
Epicor helps increase IgA (first line of defense) antibodies which are instrumental for immune function of the mouth, nose, or other orifices, and for intestinal health including healthy probiotic balance. Epicor also is a likely prebiotic, able to improve probiotic balance by helping friendly bacteria thrive in the intestine. This novel supplement is a complex blend of nutrients with a fascinating history of development. Since 1943, a company in Cedar Rapids, Iowa called Diamond V has been manufacturing a fermentation product from Saccharomyces cerevisiae, the harmless yeast used in bread and beer making. Their product is an animal feed additive used to improve the digestion and overall health of farm animals. By 2004, there were indications it might also benefit human health. The company noticed that employees who worked in its manufacturing plant had excellent health year-round compared with employees of similarly sized companies. The company commissioned a study, which confirmed that workers who had ongoing contact with the product had better immune system status than unexposed workers. Further research resulted in the development of EpiCor.
Container Size: 60 Veggie Caps
Serving Size: 1 Capsule
Servings Per Container: 60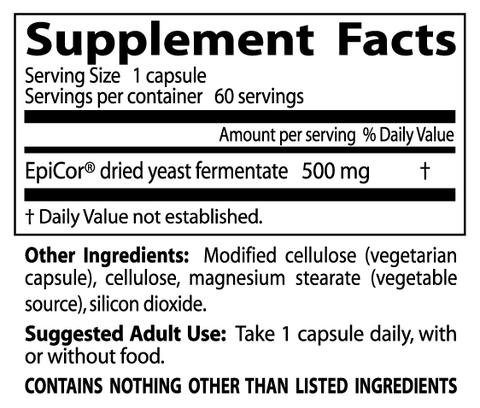 Free Shipping Nationwide:
FREE EXPRESS SHIPPING – NEW ZEALAND WIDE
TRACK AND TRACE TO YOUR FRONT DOOR
Delivery Times
North Island - Overnight
South Island - +1 Business day
(Overnight delivery service available during check out) Rural - +1 Business day from the above times
Orders need to be placed before 3.30pm to make it on the final courier of the day
Click here to view the full Shipping Details and Returns Policy.