Platinium Labs Anabolic Triad
A painstaking amount of research was done to ensure that Platinium Labs Anabolic Triad would easily be the leader in hormonal and non-hormonal testosterone support. Utilizsing only the newest cutting edge ingredients allowed Platinum Labs to use only three ingredients to achieve the ultimate anabolic maximizer. You will increase testosterone levels, increase sex drive, and increase protein synthesis.
When you start using Anabolic Triad by Platinum Labs it won't take long to notice the legitimacy of the research that was done. Stop messing around with other products that claim to send you in to an anabolic state but have the same old ingredients as everything else. If you want to increase your one rep max, take a product with scientifically researched and proven ingredients that you know you aren't wasting your money on.
Platinium Labs Anabolic Triad incredients:
Bulbine Natalensis:
Bulbine Natalensis extract ahs been scientifically proven to increase testosterone proven to increase testosterone levels by over 300% and also has positive effects on sex drive, sex function, leutinizing hormone functions and eve the bodies ability and speed to heal itself! To get these amazing benefits you need to take the correct dosage and this is where other brands have fallen well short in the past. Bulbine requires a dosage and this is where other brands have fallen well short in the past. Bulbine requires a dosage of 900mg for a 225lb male (100kg) so we put a whopping 1000mg of pure bulbine extract per dosage just to make sure.
Laxogenin:
5a-Hydroxy Laxogenin puts your body in to an anabolic state via another non-hormonal pathway by boosting protein synthesis and has been shown to have an anabolic rating so high it would be illegal if it wasn't completely natural and safe! Tests showed that protein synthesis increased by over 200%. Protein synthesis is the key to major muscle growth and strength increase as well as recovery! In testing, 5a-Hydroxy Laxogenin has balanced cortisol response, which is the major cornerstone to healthy recovery and reduction of muscle wasting.
6'7' - Dihydroxybegramottin:
6'7' - Dihydroxybegramottin also known as DHB is the main contributor to "the grapefruit effect". For a long time it has been studied and noted that when taking medications or supplements the introduction of grapefruit will increase bio-availability (how much your body absorbs) and increases half life (how long your body uses it). This compound takes the two groundbreaking anabolic ingredients and supercharges them to make sure your getting into and staying in an anabolic state much quicker and longer!
Container Size:120G
Serving Size: 1 Scoop (4g)
Servings Per Container: 30 Serves
Directions:
Take 1 level scoop first thing in the morning before the first meal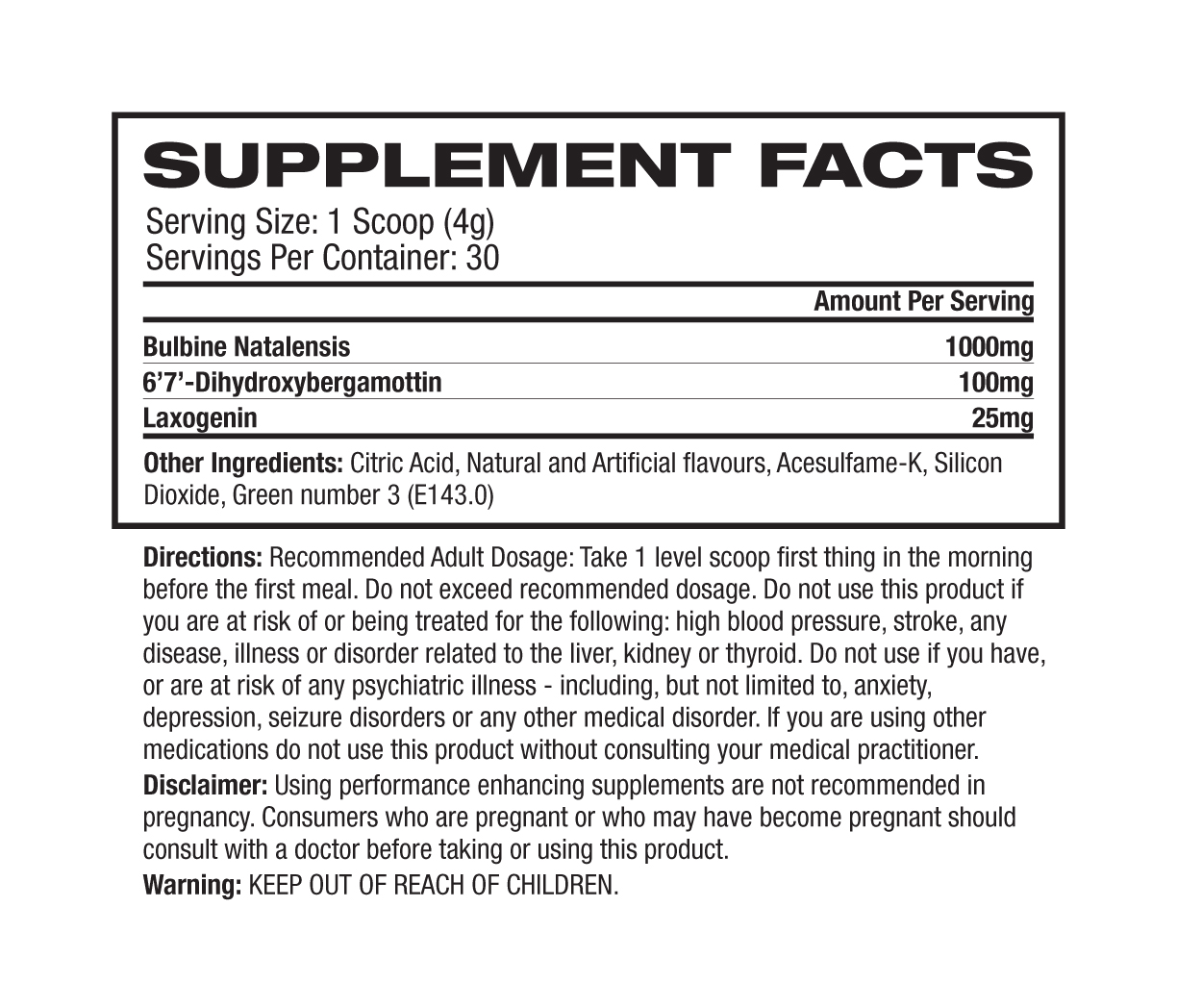 Online Orders Shipping from our distribution centre, 1 pick up per day. See shipping page for more details
All orders are Free Shipping Nationwide:
CourierPost Express – Tracking information will be emailed to you once your order has been collected from our warehouse.
Collection 4 times a day, final pick each day at 3.45pm Monday to Friday. We will process and pack your parcel within minutes of receiving your order.
Estimated Delivery Times:
Auckland – Overnight (However many Auckland orders will be delivered the same day depending on what time the order is placed)
North Island - Overnight
South Island – Overnight (for larger parcels allow 2 business days)
*Express South Island overnight delivery service available during check out. These orders are transported by air rather than Courier Post trucks.
Rural - +1 business day from the above times
CourierPost does not operate on weekends or public holidays.
Click and Collect:
Collection from Sprint Fit store
Unit 2, 74 France St South
Eden Terrace
Auckland
Please use the Sprint Fit allocated parking out front.
For Click and Collect please select 'Pick Up' during check out, orders ready for collection within 30 minutes of placing them. Monday – Friday 9am-4pm.
Click here to view the full Shipping Details and Returns Policy.