Ehp Labs Beyond Bcaa Oxyshred Combo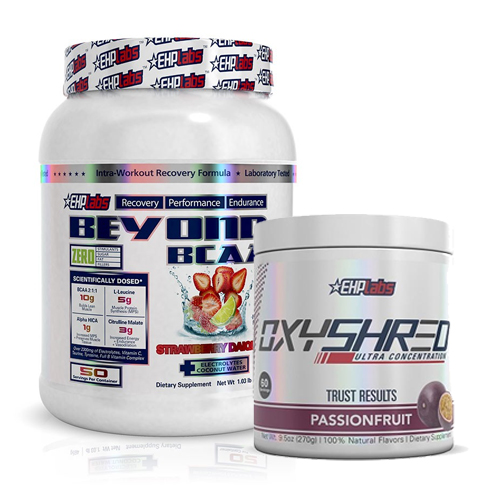 Grab the two hottest supplements on the market the EHPLabs Beyond BCAA OxyShred Combo.
This combo contains:
EHPLabs Beyond BCAA (50 Serve)

EhpLabs OxyShred (60 Serve)
EHP Labs Beyond BCAA features the three essential branched chain amino acids but also incorporates several other amino acids and key ingredients to fully maximize not only performance and endurance during exercise but recovery times post workout.
Beyond BCAA is scientifically formulated with the optimal proven 2:1:1 ration of the branched chain amino acids: leucine, iso-leucine and valine. Combined with Alpha HICA, Citrulline Malate, Taurine, Tyrosine, Vitamin C, Full B Vitamin Spectrum and Electrolytes.
EHP Labs Beyond BCAA features:
Helps with the development of lean muscle mass

Limits lactic acid build up and muscle soreness

Limits muscle tissue breakdown (anti-catabolic)

Limits cortisol release and post-workout crashes

Muscle protein synthesis

Muscle hydration

Energy and nutrient delivery

Help with endurance and stamina

Zero stimulants, sugar, fat and fillers
Click here to see the full product description and facts - EHP Labs Beyond BCAA
EHP Labs OxyShred has taken the fitness and weight loss world by storm with its amazing taste, efficacious formula and reliable results.EHP Labs OxyShred is a potent thermogenic fat burner. It will take your body to a new level of fat burning called "Hyper-lipolysis". In other words, turbo fat burning. Unlike other fat burners on the market, OxyShred is not a heavy stimulant based thermogenic. OxyShred has been pharmaceutically engineered to switch off your body's "fat memory" the a2 receptors and to stimulate your body's fat burning hormones the ß2-adrenergic receptors to mobilise the existing subcutaneous stubborn fat cells to the mitochondria to be converted into energy in the form of adenosine triphosphate.
EHP Labs OxyShred features:
Limits calorie absorption by the body

May help destroy stubborn fat cells

No jitters or anxiety

Contains mood enhancers

Includes immunity support through Vitamin C and L-Glutamine

Zero carbohydrates, zero sugars, zero fat and zero sodium
Click here to see the full product description and facts - EHP Labs OxyShred
EHP Labs Beyond BCAA:
Container Size: 480G
Serving Size: 1 Scoop (9.6g)
Servings Per Container: 50

Directions:
Mix 1 scoop of Beyond BCAA with 350ml of cold water. For high intensity or long training sessions, mix 2 scoops of Beyond BCAA with 590ml of water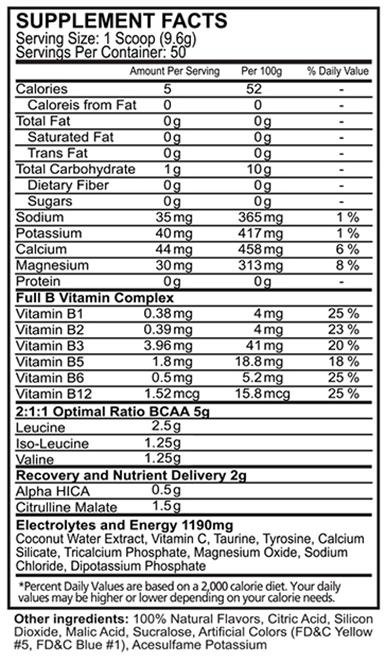 EHP Labs OxyShred:
Container Size: 300G
Serving Size: 1 Scoop (5g)
Servings Per Container: 60

Directions:
For optimum results take twice daily - Mix 1 scoop with 10 ounces (295 ml) of chilled water first thing in the morning on an empty stomach, and on training days, consume 15 minutes prior to exercise. Avoid eating or consuming a protein shake within 20 minutes after consumption for maximum absorption.


Free Shipping Nationwide:
FREE EXPRESS SHIPPING – NEW ZEALAND WIDE
TRACK AND TRACE TO YOUR FRONT DOOR
Delivery Times
North Island - Overnight
South Island - +1 Business day
(Overnight delivery service available during check out) Rural - +1 Business day from the above times
Orders need to be placed before 3.30pm to make it on the final courier of the day
Click here to view the full Shipping Details and Returns Policy.
Ehp Labs Beyond Bcaa Oxyshred Combo Reviews
---
Lynda

Published Thursday, 8 August 2019

10/10 Mango

Best tasting fat burner, easily adjust intake/don't always need a full scoop. Only tried mango but is delicious no chemical or funny tastes. Highly recommend

Laura Wilson

Published Thursday, 1 August 2019

10/10 Passion Fruit

Awesome product !! I've been using it on and off for a while and wouldnt go back to anything else. Not too rough on the guts but can still feel it working and it tastes amazing so that's a bonus too.

Mel G

Published Sunday, 7 July 2019

10/10 Guava

I love this stuff! Guava is my favourite flavour and I look forward to it every morning. Gives me that extra kick I need to get going without the jitters. Slows down the amount I eat as well which is an added bonus.