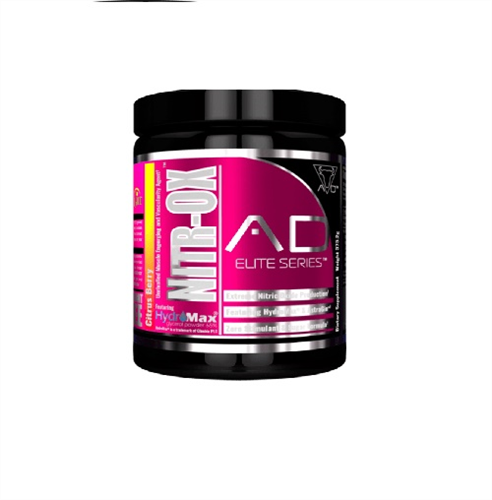 New from Project AD is Nitr-OX. Project ADs new Nitr-OX is a rapid acting pump supplement designed to help you reach new levels of vascularity.
Project AD has always been associated with exceptional quality ingredients and innovative formulations, and their brand new Nito-Ox is no exception. Nitr-Ox contains citrulline malate an active precursor to Nitric Oxide (NO) which is responsible for generating muscle pumps this is combined with HydroMax, a highly stable form of glycerine, which causes hyper-hydration, pulling water into the muscles driving nutrients where they need to be.
This welcome addition to the AD Elite Series range of awesome products not only contains NO boosting and Hyper-hydrating ingredients but with the clever addition of the amino acids L-Taurine, for increased blood flow and L-Norvaline, which inhibits NO reducing enzymes, allows you to not only get a great pump, but keep it throughout your session and beyond! This really is the ultimate formulation for generating long lasting muscle splitting pumps in every session.
Project AD is Nitr-OX features:
Clinically researched ingredients.

Increases blood flow, hydrates muscles and encourages NO production

Supports nutrient delivery, recovery and growth

Simply take one serving before training for next level pumps
Container Size: 374G
Serving Size: 1 Scoop (15g)
Servings Per Container: 24
Amount Per Serving:
Chloride (as sodium) - 185mg
Sodium (as chloride) - 120mg
Potassium (as phosphate and aspartate) - 276mg
Citrulline Malate - 12,200mg
HydroMax(65% glycerol) powder - 5,000mg
L-Taurine - 1000mg
L-Norvaline - 150mg
AstraGIN (from Proprietary Blend Astragalus membranaceus Root and Panax notoginseng Root) - 50mg
Free Shipping Nationwide:
FREE EXPRESS SHIPPING – NEW ZEALAND WIDE
TRACK AND TRACE TO YOUR FRONT DOOR
Delivery Times
North Island - Overnight
South Island - +1 Business day
(Overnight delivery service available during check out) Rural - +1 Business day from the above times
Orders need to be placed before 3.30pm to make it on the final courier of the day
Click here to view the full Shipping Details and Returns Policy.