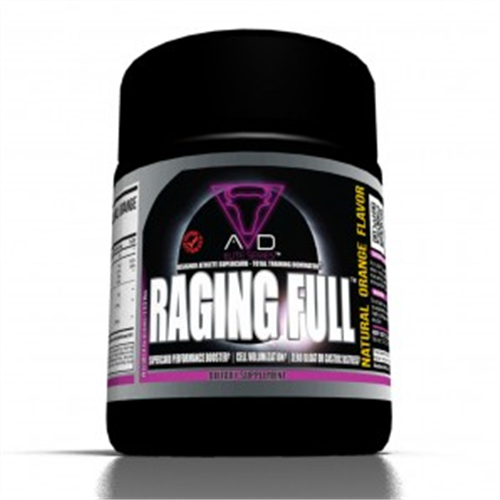 Project AD Raging Full is an advanced intra-workoout carbohydrate based drink. Raging Full uses a special blend of advanced carb types, backed up with an advanced mineral support formula and doesn't include any unnecessary stims or counter-intuitive ingredients – just large usable quantities of things like free form taurine and citrulline.
They ensured that a serving delivers precisely 25grams of carbohydrates because you don't need more and because this is, in their view, the perfect amount to fuel immediate activity, and assist in post-workout nutrition.
Project AD Raging Full is lightly flavoured this with all natural orange oils and sweetened with the herbal sweetener Stevia leaf (with a tiny proportion of Sucralose to offset the mildly bitter after-taste of Stevia – however the amount of Sucralose is a tiny fraction of most formulas out there – and they use no artificial sweeteners like Aspartame). This means Raging Full is a very naturally pleasant orange tasting drink with none of the sickly artificial sweetness of most carb formulas.
Container Size: 876G
Serving Size: 1 Scoop
Servings Per Container: 30
Directions:
As an adult dietery supplement for best results take at least one serving (1 scoop / approx 29.2grams) and mix with water or your favourite beverage. Use as many servings as required for your energy needs using increased liquid for more servings. Begin sipping the mixture at least 15 minutes prior to activity and continue drinking during and after strenuous training or competition for best results. Keep out of the reach of children
Amount Per Serve:
Nutritional Profile Per 29.2g serving
Carbohydrates 25g
Sodium (as Phosphate) 139mg
Potassium (as citrate) 200mg
Magnesium (as AAC) 50mg
Phosphorus (as sodium) 156mg
Load Complex:
(Modified Potato Starch, Cluster Dextrin) 25g
Drive and Pump Complex
(L-Taurine, Betaine, L-Citrulline, HydroMax Glycerol) 4675mg
Mineral Support Complex
(Sodium Phosphate, Potassium Citrate, Magnesium AAC) 1302mg
Other ingredients:
Natural Flavours, Citric Acid, Stevia Extract, Sucralose
Free Shipping Nationwide:
FREE EXPRESS SHIPPING – NEW ZEALAND WIDE
TRACK AND TRACE TO YOUR FRONT DOOR
Delivery Times
North Island - Overnight
South Island - +1 Business day
(Overnight delivery service available during check out) Rural - +1 Business day from the above times
Orders need to be placed before 3.30pm to make it on the final courier of the day
Click here to view the full Shipping Details and Returns Policy.