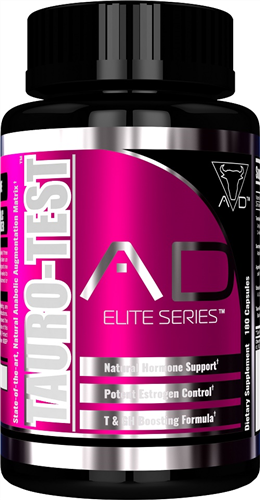 Project AD Tauro Test delivers a unique synergistic blend of ingredients designed to just raise testosterone levels via Testobullism ; a blend of five potent compounds that provide a prolonged surge in testosterone. Anabolic Designs Tauro Test also reduces Estrogen levels through Estocut; a mix of ingredients to keep estrogen levels in check thus optimizing free testosterone levels the body.
More free testosterone results in increased strength, increased protein synthesis levels and more nitrogen retention within the muscle.
Project AD Tauro Test - With Added Secretrophin
Not satisfied with making a truly mean testosterone enhancing product Anabolic Designs has beefed up Tauro Test with Secretrophin; this induces the secretion of growth hormone which promotes more lean muscle mass and reductions in body fat stores. This is complemented by CAMP (cyclic adenosine monophosphate) agonists; these have been shown to also support reductions in body fat levels by increasing thyroid levels and fat breakdown within the cell itself.
All of this is supported with Tauro Drive a unique delivery system that increases the uptake of the nutrients to ensure users get the maximum effect from the powerful ingredient profile.
What does this mean to users? Why use Tauro Test?
Anabolic Designs Tauro Test is not just a testosterone booster; Tauro test is made up of five matrices to ensure that this product can dramatically improve body composition; both building muscle and reducing body fat levels, you will have a harder, fuller more dense appearance, have the ability to lift heavier weights and experience increased libido and confidence levels.
Tauro Test is can be used to gain muscle mass rapidly all year round or can be used as part of any post cycle therapy treatment. Tauro Test works best when used in conjunction with a high protein diet. Anabolic Designs Tauro Test creates the ultimate environment that allows you to charge through workouts, overcome plateaus and redefine your physique.
Container Size: 180 Capsules
Serving Size: 6 Caps
Servings Per Container: 30


Free Shipping Nationwide:
FREE EXPRESS SHIPPING – NEW ZEALAND WIDE
TRACK AND TRACE TO YOUR FRONT DOOR
Delivery Times
North Island - Overnight
South Island - +1 Business day
(Overnight delivery service available during check out) Rural - +1 Business day from the above times
Orders need to be placed before 3.30pm to make it on the final courier of the day
Click here to view the full Shipping Details and Returns Policy.