Scivation Quake 10.0 Pre-Workout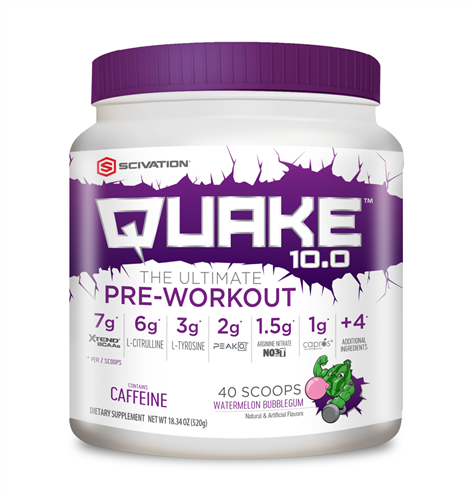 Get ready for an earth-shattering workout that will leave the gym rats feeling the tremors of your reps and wondering what your secret is. With a complex combination of ground-shaking ingredients, Scivation Quake 10.0 is destined to be the epicenter of your workout.
Scivation Quake 10.0 features
7G Xtend BCAAs - in the nature-designed and research-proven 2:1:1 ratio.

Capros - Facilitates more oxygen delivery to working muscles – for a ground-rupturing muscle pump throughout your workout – and an efficient delivery of nutrient rich blood to the muscles for greater gains. Capros ensures your muscles can gorge on anabolic nutrients for a devastating performance and mega gains during your workout.

Arginine Nitrate NO3T Arginine Nitrate delivers a sustained NO release ensuring your skin-splitting pump endures throughout your workout.

Peak 02: A revolutionary performance-enhancing blend that boosts power output, improves exercise capacity, and increases time-to-exhaustion.

Astragina: Immune system support and improved bioavailability of nutrients.

L-Tyrosine: Helps to increase deep focus during stress.

L-Theanine: A non-essential amino acid that provides cool, calm, focus without the jitters.

Citrullinel: Provides steady, sustained increase in blood arginine, which increases recovery time in between sets.

L-Carnitine & L-Tartrate Helps muscles burn fuel efficiently, which reduces fatigue.

Caffeine: Increased alertness and work capacity
Container Size: 40 Serves
Serving Size: 1 Scoop (13G) 2 Scoops (26G)
Servings Per Container: 40 / 20


Free Shipping Nationwide:
FREE EXPRESS SHIPPING – NEW ZEALAND WIDE
TRACK AND TRACE TO YOUR FRONT DOOR
Click here to view the full Shipping Details and Returns Policy.