Platinium Labs Essentials Bcaa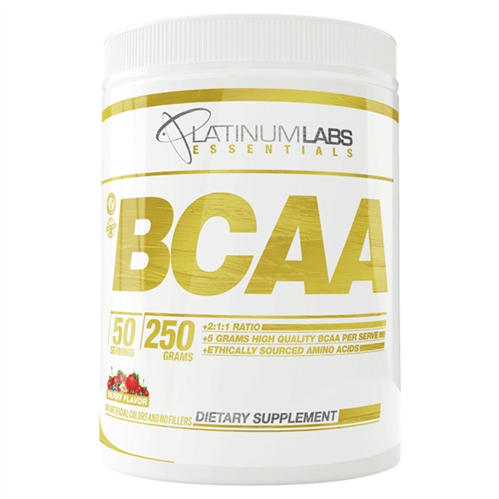 Are you looking for that next great supplement that will help speed up your muscle recovery and provide you with added endurance during your workout? Unlike many BCAA supplements, Platinum Labs BCAAs are 100% ethically sourced with no artificial colors in a full 5g-scoop serving with absolutely no fillers. They are also proud to say our BCAAs are suitable for vegans.
Amino acids are the building blocks of protein and strength-training and endurance athletes have been using BCAAs for many years. Due to the extra exertion placed on the muscles when you exercise, they begin to act like a sponge and become highly receptive to any nutrients circulating in the blood stream. The essential amino acids Leucine, Isoleucine and Valine beneficially influence the muscles in your body by promoting muscle protein synthesis so that your muscles can recover and grow.
BCAAs also help to prevent fatigue and assist the body with glucose uptake into cells. BCAAs are also the only amino acids that are directly metabolized in the muscle and not in the liver. Essentials BCAAs can also be taken on non-training days to assist in faster recovery.
This essential branched-chain amino acid (BCAA) contains three essential amino acids: Leucine, Isoleucine and Valine in the scientifically studied and most effective 2:1:1 ratio (2500mg: 1250mg: 1250mg)
Container Size:50 Serves
Serving Size: 1 Scoop (6.5g)
Servings Per Container: 50
Free Shipping Nationwide:
FREE EXPRESS SHIPPING – NEW ZEALAND WIDE
TRACK AND TRACE TO YOUR FRONT DOOR
Delivery Times
North Island - Overnight
South Island - +1 Business day
(Overnight delivery service available during check out) Rural - +1 Business day from the above times
Orders need to be placed before 3.30pm to make it on the final courier of the day
Click here to view the full Shipping Details and Returns Policy.