Nuzest Clean Lean Protein Functional Vanilla Matcha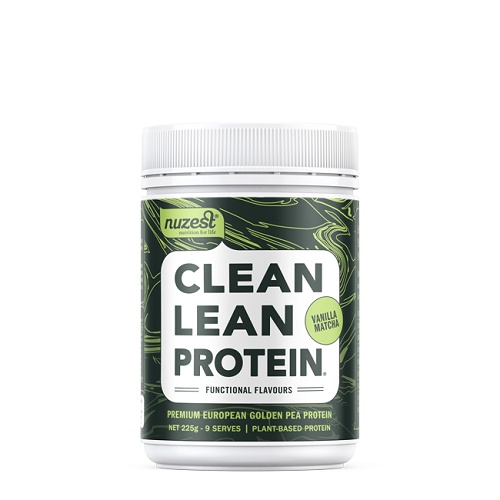 Nuzest has taken ingredients from centuries-old traditional medicine and blended them with Clean Lean Protein to create a great-tasting, high-protein shake with added functional benefits. Clean Lean Protein is protein in its purest form – natural and free from all common allergens. No gluten, dairy or soy GMOs or artificial preservatives. It's 100% vegetable, low in carbohydrates and high in digestible protein. Clean Lean Protein is the ideal protein supplement to support an active lifestyle and good nutrition. Perfect for those wanting to look, feel and perform at their best.
Nuzest Clean Lean Protein Functional Flavours Vanilla Matcha features:
Premium European Golden Pea Protein with added functional ingredients to help you perform at your peak

Matcha - this slow release caffeine, high in antioxidants has been used in Eastern medicine for its brain-boosting effects (due to high levels of L-Theanine).

No dairy or soy

Gluten free

No artificial sweetners

No perservatives
How To Use
Clean Lean Protein Functional Flavours is a ready to make protein smoothie. No need to add anything other than water or your choice of milk (e.g. rice, almond or coconut). You don't even need a blender, simply shake and go!
Who Is It For
Clean Lean Protein Functional Flavours is suitable for all ages, lifestyles and common dietary requirements. It's founded on clean nutrition with nothing artificial – no fillers, added sugar or other nasties.
The Sustainable Choice
Nuzest operate with the environment in mind. Golden peas provide a sustainable protein source using less water and less land than animal proteins. The isolation process is water-based, the water is then purified and recycled. Any waste goes to animal feed and biofuel.
Independently Tested & Free From Common Allergens
Ingredients are blended in Australia under strict GMP standards. The finished products are then tested to ensure they are safe and free from Gluten, Dairy and Soy.
Free Shipping Nationwide:
FREE EXPRESS SHIPPING – NEW ZEALAND WIDE
TRACK AND TRACE TO YOUR FRONT DOOR
Delivery Times
North Island - Overnight
South Island - +1 Business day
(Overnight delivery service available during check out) Rural - +1 Business day from the above times
Orders need to be placed before 3.30pm to make it on the final courier of the day
Click here to view the full Shipping Details and Returns Policy.
Nuzest Clean Lean Protein Functional Vanilla Matcha Reviews
---