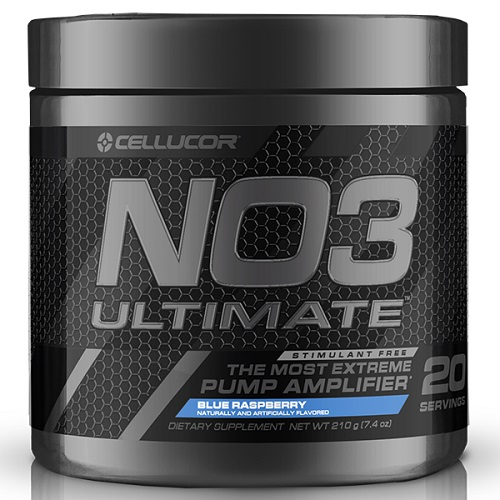 Cellucor NO3 Ultimate combines four ingredients to support nitric oxide creation in the body, in a delicious stimulant-free formulation. NO3 Ultimate can be taken standalone, or stacked with your favourite pre-workout product to enhance your performance.

Cellucor NO3 Ultimate features:
L-Citrulline (4g): Used as a precursor to Arginine and nitric oxide creation, L-Citrulline may support an increase in nitric oxide levels, and when paired with Arginine, it supports the ultimate pump.

Nitrosigine Inositol-Stabilized Arginine Silicate (1.5g): Shown to significantly increase arginine and nitric oxide levels for up to 3 hours.

Arginine AKG (1g): Precursor to nitric oxide, and promotes nitric oxide production in the body.

Arginine Nitrate (NO3-T)(500mg): Is a precursor to nitric oxide and promotes nitric oxide production in the body, and takes pumps to a new level.

Grape Seed Extract: Is rich in antioxidants, has been shown to support the increase in blood transportation rate, and increase blood levels of antioxidants.

resVida trans-Resveratrol: Often referred to as the powerful antioxidant found in red wine, resVida trans-Resveratrol is the purest form of trans-resveratrol, which supports healthy aging. Resveratrol is believed to exhibit antioxidant activity, which are attributes associated with scavenging the body of harmful free radicals.

Container Size: 20 Serve
Serving Size:
Servings Per Container: 20 Serves
Free Shipping Nationwide:
FREE EXPRESS SHIPPING – NEW ZEALAND WIDE
TRACK AND TRACE TO YOUR FRONT DOOR
Delivery Times
North Island - Overnight
South Island - +1 Business day
(Overnight delivery service available during check out) Rural - +1 Business day from the above times
Orders need to be placed before 3.30pm to make it on the final courier of the day
Click here to view the full Shipping Details and Returns Policy.