Bpi Sports Keto Best Pre Workout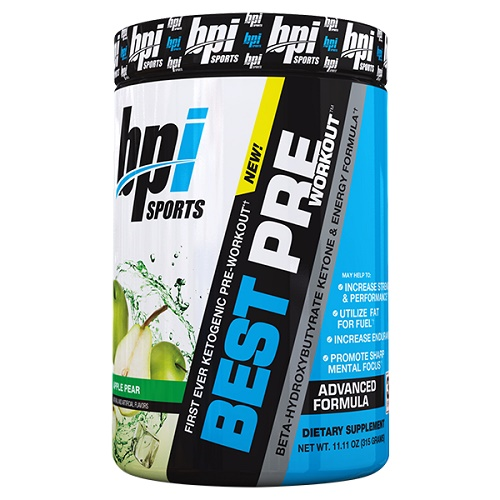 When you body enters a metabolic state of ketosis, typically referred to as the "fat burning" state caused by a low-carb or caloric-deficit diet, it utilises stored fat as a primary source of energy; for you, this means burning away fat as fuel. BPI Sports' Best Pre-Workout utilises an exogenous blend of ketones that may help your body to enter the ketogenic state faster, while providing energy-boosting ingredients to help heighten mental focus & energy, as well to help increase strength and performance.

BPI Sports' Best Pre-Workout is the first ever pre-workout designed specifically for those following ketogenic or low-carb diets. It's also designed to help those following intermittent fasting, and those endurance athletes looking to elevate performance.
Best Pre-Workout helps transition the body from using glucose for fuel to burning fat for fuel. It contains both medium chain triglycerides (MCTs) and beta-hydroxybutyrate (BHB) salts to help accelerate the process of burning fat for fuel and providing you with more energy.
BPI Best Pre-Workout doesn't just stop there. BPI Sports also added several key performance-boosting ingredients to help elevate your energy, focus, hydration and muscle strength. You can now get more out of your workouts on less fuel and still perform your best! If you're following a ketogenic or low carb diet and you're looking to kick the body into a fat burning machine, look no further than BEST PRE WORKOUT!
BPI Sports Keto Best Pre-Workout features:
Designed specifically for those following ketogenic or low-carb diets

7g Ketogenic Blend

250mg Caffeine

30 Serves

Available Flavours: Tropical Freeze, Watermelon, Blue Lemon Ice, Apple Pear
Container Size: 30 Serves
Serving Size: 1 Scoop (10.5g)
Servings Per Container: 30 Serves
Free Shipping Nationwide:
FREE EXPRESS SHIPPING – NEW ZEALAND WIDE
TRACK AND TRACE TO YOUR FRONT DOOR
Delivery Times
North Island - Overnight
South Island - +1 Business day
(Overnight delivery service available during check out) Rural - +1 Business day from the above times
Orders need to be placed before 3.30pm to make it on the final courier of the day
Click here to view the full Shipping Details and Returns Policy.
Bpi Sports Keto Best Pre Workout Reviews
---
Carl

Published Friday, 3 May 2019

10/10 Apple Pear

I've been using keto pre-workout for several years. This brand for 6 months. The biggest appeal is the price. Prior I was paying $10 a serve, this is under $2 a serve. Serves as a pre work out or a meal on the go and reduces cravings. Apple and pear are by far the best flavor

Dave

Published Thursday, 4 April 2019

Doing keto diet now and have taken this for about two weeks. Definitely doesn't take you out of keto, not sure if it pushes you deeper. Not an intense pre-workout (no itching skin) but it's nice. I thought tropical freeze sounded too fruity, but it's decent. Definitely worth a go.