Vita Biosa Organic Probiotic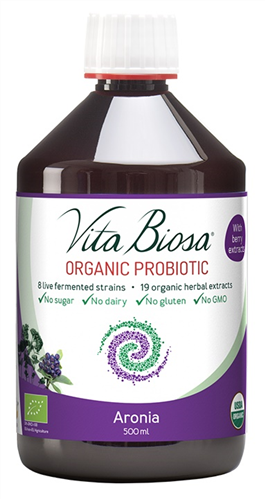 Vita Biosa is a certified organic ready-to-drink probiotic herbal tonic. Combining the beneficial effects of probiotic bacteria and herbs is advantageous in many ways. In the final fermented product, the valuable substances of the herbs are conserved, and at the same time, the herbal extracts have a beneficial effect on the metabolism of the probiotic bacteria, which multiply and produce vital organic acids.
The combination of live probiotic strains, extract of 19 different herbs and organic acids is what makes Vita Biosa truly unique.
8 strains of natural lactic acid bacteria, extract of 19 different herbs from controlled organic cultivation. Vegan. Lactose-free and milk-free, sugar-free, non-alcoholic, without additives.
These herbs are fermented with various lactic acid bacterial strains. Lactic acid bacteria multiply during fermentation and the composition of these micro-organisms varies from time to time, as Vita Biosa is a "living" product. During fermentation, lactic acid cultures convert all sugar into milk and acetic acid. When the sugar is consumed, the fermentation is completed and Vita Biosa is thus sugar free.
What are lactic acid bacteria?
Lactic acid bacteria, such as the lactobacillus or the bifidobacteria are called because they convert sugar into organic acids, mainly in lactic acid. The same happens during the fermentation process of Vita Biosa, which converts sugar into lactic acid and acetic acid. By consuming all the sugar from the bacteria, the fermented beverage is free to finish sugar. Lactic acid bacteria, however, have nothing to do with milk, so that they can be consumed without problems even by people who do not tolerate dairy products.
Which herbs are used for Vita Biosa?
The herbal mixture consists of the following herbs (all organically grown): 0.5% aniseed, basil, fenugreek clover seeds, nettle, dill, real angelica, fennel, elder, ginger, chervil, oregano, parsley, peppermint, Roman chamomile, Rosemary, sage, liquorice root, thyme, juniper.
What micro-organism cultures does Vita Biosa have?
B. lactis, B. lung, LC. lactis, L. casei, L. acidophilus, L. rhamnosus, L. salivarius,, S. thermophilus.
Is Vita Biosa also suitable for children?
Yes, Vita Biosa probiotic herbs can also give your children with good conscience. The manufacturer recommends for children 10-15 ml in the morning, ideally before breakfast as well as lunch and dinner at meals. Overdose is not to be feared even in the event of increased consumption.
Container Size: 500ml
Serving Size: 30ml
Servings Per Container: 16.6
Container Size: 1000ml
Serving Size: 30ml
Servings Per Container: 33.3
Container Size: 3000ml
Serving Size: 30ml
Servings Per Container: 99.9


Free Shipping Nationwide:
FREE EXPRESS SHIPPING – NEW ZEALAND WIDE
TRACK AND TRACE TO YOUR FRONT DOOR
Delivery Times
North Island - Overnight
South Island - +1 Business day
(Overnight delivery service available during check out) Rural - +1 Business day from the above times
Orders need to be placed before 3.30pm to make it on the final courier of the day
Click here to view the full Shipping Details and Returns Policy.
Raj

Published Thursday, 10 January 2019

I've been a user of Vita Biosa probiotics for almost 10 years. This was my first order from SprintFit. The delivery was fast and the 3 liter packaging was excellent. I have a auto immune disorder for about 34 years now, I'm 48 years old this year. Vita Biosa is excellent for those with leaky gut. I suffered from Psoriatic Arthritis and taking Vita Biosa is something that I cannot live without. My health has improved much after long term use of this excellent probioticcs. Recommended this to my friends some like some dont. But you could try it and see it helps improve your overall immune system. Sprintfit gives it at a good price so I'll buying it from them going forward. Thanks and Regards.

Marta

Published Wednesday, 31 October 2018

I have known and used Vita Noosa for nearly two years now. It's fantastic for restoring good gut bacteria and helps with digestion, skin and immunity problems. I am very happy with the price and service. Thank you SprintFit!

Heather

Published Thursday, 28 June 2018

I've been using Biosa for about 8 months now and love it. I was recommended it for boosting my immune systems which can suffer having kids. I have one minor cold in the time so far and nothing over winter! I have it in the morning with a little water and get my kids to have it the same way. It's great after a big meal too...good for extra digestion!