Sapiens Superfoods Yin Green Tea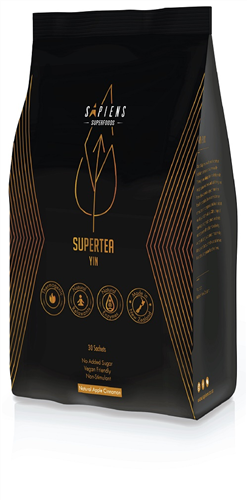 Sapiens SuperTea Yin is a blend of real tea and superfoods. Designed for the primary function of non-stimulant fat burning and to aid rest and recovery. Made with natural ingredients that can metabolise fat, along with natural ingredients that are traditionally used as a sleep aid and to provide a relaxing sensation. Some of these ingredients may also have anti-inflammatory properties which may support your recovery. On top of this SuperTea Yin can support your daily well-being.
Sapeins SuperTea Yin features:
Specifically designed to assist weight management

Exceptional non-stimulant fat burning formulation

Superb blend of natural thermogenic ingredients to stimulate fat oxidation

Formulated to increase your metabolic rate

Distinctive combination of ingredients that provide calming and relaxing effects

Unique ingredients that can improve your sleep quality

Contains herbs with anti-inflammatory properties to aid your recovery

Powerful detoxing and antioxidant properties to eliminate nasties from your body

Formulated with natural enzymes to aid your digestive function

Wide spectrum of natural teas that support your well being

Made with quality assured ingredients in a fully certified facility
Container Size: 30 Serves
Serving Size: 1 Sachet
Servings Per Container: 30
Free Shipping Nationwide:
FREE EXPRESS SHIPPING – NEW ZEALAND WIDE
TRACK AND TRACE TO YOUR FRONT DOOR
Delivery Times
North Island - Overnight
South Island - +1 Business day
(Overnight delivery service available during check out) Rural - +1 Business day from the above times
Orders need to be placed before 3.30pm to make it on the final courier of the day
Click here to view the full Shipping Details and Returns Policy.
There are not yet any reviews on this product.