Cellucor C4 Original Id Alpha Combo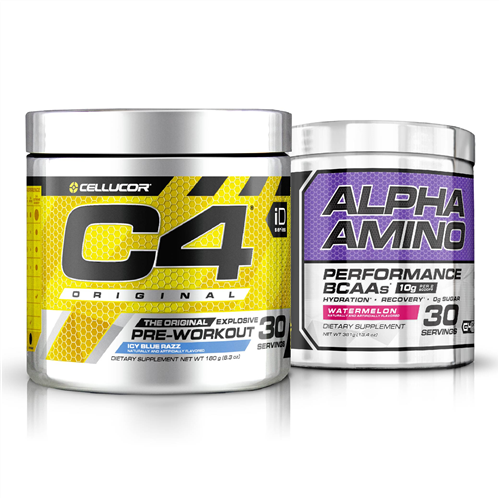 Grab your favourite Pre-Workout and Intra-Workout with the Cellucor C4 Original ID Alpha Combo
Cellucor C4 Original ID Alpha Combo contains:
Cellucor C4 Original ID 30 Serve

Cellucor Alpha Amino 30 Serve
Cellucor C4 ID Original lives up to its solid reputation with a classic formula for advanced energy, endurance, focus and pumps! But with a new bottle design and more delicious flavor options for you to choose from, you'll feel like it's your very first time experiencing the C4 pre-workout you know and love.
Cellucor C4 ID Original features:
1.6g CarnoSyn ® Beta- Alanine

1g Creatine Nitrate (NO3-T ®)

150mg Caffeine

1g Arginine AKG

Now with TeaCrine®
Whether you're just starting a fitness journey or you're striving to reach that next level, C4 Original will help you unlock your full potential.
Contains CarnoSyn® Beta Alanine, an amino acid, which converts to a compound in your body called carnosine. It is the only patented and clinically studied form of beta-alanine that has been shown to support muscular endurance.
Cellucor Alpha Amino Gen4 V2 has tailored this new version of Alpha Amino to include a well studied 2:1:1 BCAA ratio for optimal performance in addition to 11 essential amino acids. An integral part of the Alpha Amino formula are electrolytes, which help keep your body hydrated and ready to tackle any challenge. You can't perform your best if you're dehydrated and depleted of important minerals. Hydration is an underrated but key component of optimal performance, which is why we've upgraded the Alpha Amino formula to include electrolytes AND BetaPower. It is a natural and scientifically studied ingredient that improves hydration, protects against cell stress during intense activity, and even boosts physical performance - especially strength, power and muscle endurance.

Cellucor Alpha Amino Gen4 V2 features:
Contains 11 Amino Acids

Now contains Hydromax and electrolytes

Great tasting sports drink with no sugar

Helps increase endurance

Reduces muscle soreness

Promotes muscle growth

Prevents muscle breakdown
Cellucor C4 Original ID
Container Size: 30 Serves
Serving Size: 1 Scoop (9g)
Servings Per Container: 30

Cellucor Alpha Amino
Container Size: 384G
Serving Size:1 Scoop (12.8g)
Servings Per Container: 30
Directions:
Mix one to two scoops of Alpha Amino in at least 450ml. of cold water or other beverage of choice daily.