Ehp Labs Isopept Beyond Bcaa Combo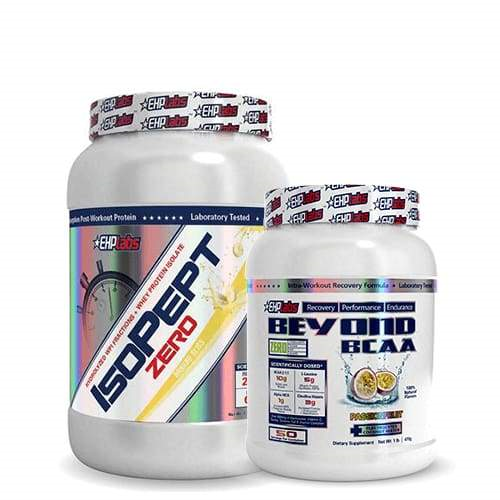 EHPLabs Isopept Beyond BCAA contains
EhpLabs Isopept 907G

EhpLabs Beyond BCAA 50 Serves
EHP Labs IsoPept Zero is your ideal post-workout whey protein shake comprized of Hydrolysed and Pure Whey Protein Isolate, which are the most premium and nutrient rich sources of high quality protein peptide fractions providing your fatigued muscles with a direct source of fuel for growth and repair.

IsoPept Zero contains 0 grams of sugar and almost 0 grams of fat and carbs per serving. This makes IsoPept Zero the ideal fast absorbing protein shake for anyone trying to gain lean muscle. And with 5.7 grams of BCAAs and 25 grams of protein, your body will be fueled with the ideal building blocks necessary for muscle growth and repair. The product meets all of the strict laboratory testing criteria applied by EHPlabs to ensure that every batch produced contains a minimum of 25 grams of pure premium grade hydrolysed and pure whey protein isolate.

EHP Labs IsoPept Zero features:
Loaded with BCAAs for lean muscle growth and repair

Rapidly absorbed

Rich source of high quality protein peptide fractions

Almost zero fat and carbohydrates

Premium quality and exceptional taste

Gluten free
EHP Labs Beyond BCAA features the three essential branched chain amino acids but also incorporates several other amino acids and key ingredients to fully maximize not only performance and endurance during exercise but recovery times post workout.
Beyond BCAA is scientifically formulated with the optimal proven 2:1:1 ration of the branched chain amino acids: leucine, iso-leucine and valine. Combined with Alpha HICA, Citrulline Malate, Taurine, Tyrosine, Vitamin C, Full B Vitamin Spectrum and Electrolytes.
EHP Labs Beyond BCAA features:
Helps with the development of lean muscle mass

Limits lactic acid build up and muscle soreness

Limits muscle tissue breakdown (anti-catabolic)

Limits cortisol release and post-workout crashes

Muscle protein synthesis

Muscle hydration

Energy and nutrient delivery

Help with endurance and stamina

Zero stimulants, sugar, fat and fillers
EHPLabs IsoPept:
Container Size: 900G (2Lb)
Serving Size: 1 Scoop (33g)
Servings Per Container: 30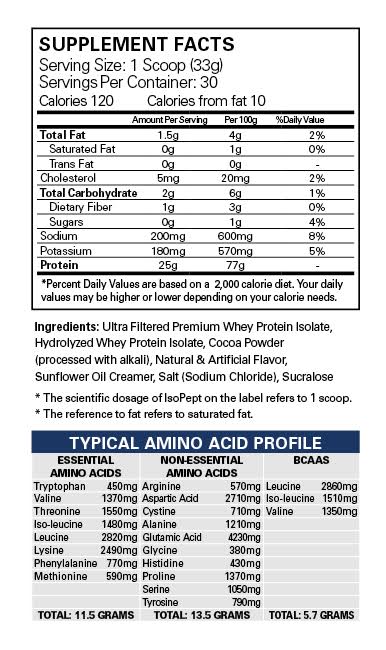 EhpLabs Beyond BCAA:
Container Size: 480G
Serving Size: 1 Scoop (9.6g)
Servings Per Container: 50

Directions:
Mix 1 scoop of Beyond BCAA with 350ml of cold water. For high intensity or long training sessions, mix 2 scoops of Beyond BCAA with 590ml of water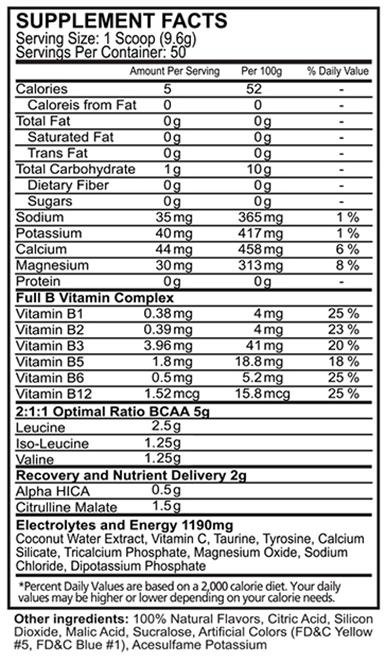 Free Shipping Nationwide:
FREE EXPRESS SHIPPING – NEW ZEALAND WIDE
TRACK AND TRACE TO YOUR FRONT DOOR
Delivery Times
North Island - Overnight
South Island - +1 Business day
(Overnight delivery service available during check out) Rural - +1 Business day from the above times
Orders need to be placed before 3.30pm to make it on the final courier of the day
Click here to view the full Shipping Details and Returns Policy.
Ehp Labs Isopept Beyond Bcaa Combo Reviews
---