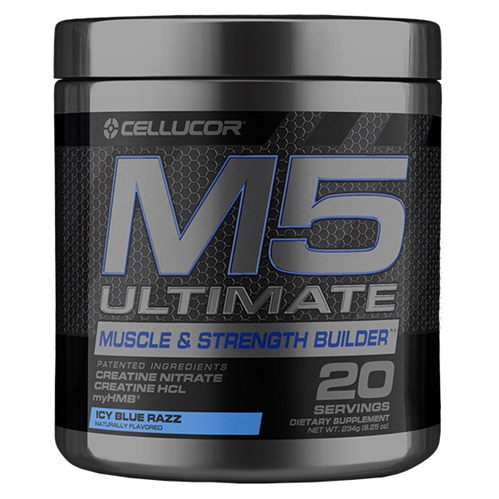 Building on the history, legacy, and success of the highly regarded Cellucor M5 product family, Cellucor M5 Ultimate has been updated, upgraded, and reformulated to help you build serious strength and size. The new fully transparent, cutting-edge, stimulant-free formula combines our Mass-Building Creatine Complex with patented myHMB® to support muscle growth, strength, endurance, and performance.*
If you've been looking for the ultimate creatine formula to complete your muscle-building supplement stack, look no further than M5® Ultimate. M5® Ultimate contains a combined 7 grams of three separate types of creatine, plus 3 grams of myHMB®, to help you stack plates, add size, and dominate your workout. It's grow time.*
Cellucor M5 Ultimate features:
Helps you build size and gain strength*

Includes 7g of total creatine, plus 3g of myHMB®

Supports muscle health

myHMB® helps boost protein synthesis and reduce breakdown*

The Ultimate creatine complex*

Creatine monohydrate, Creatine Nitrate (NO3-T®), and Creatine HCL®
5g Creatine Monohydrate:
This well-studied muscle-building staple, sometimes referred to as "the king" of muscle and strength supplements, promotes the production of cellular energy (ATP) to support muscular strength, endurance, and growth.*
1g Creatine Nitrate (NO3-T®):
A cutting-edge, patented creatine compound that's formed when creatine is bonded with nitrate anions.*
1g Creatine HCL®:
A patented, clinically studied form of creatine hydrochloride that is highly soluble and absorbable.*
3g MyHMB®:
A patented combination of Vitamin D3 and HMB that pairs well with creatine and can help promote muscle health, improve muscle gains, and increase muscle function.*
Container Size: 20 Serves
Serving Size: 1 Scoop (12.2g)
Servings Per Container: 20
Free Shipping Nationwide:
FREE EXPRESS SHIPPING – NEW ZEALAND WIDE
TRACK AND TRACE TO YOUR FRONT DOOR
Delivery Times
North Island - Overnight
South Island - +1 Business day
(Overnight delivery service available during check out) Rural - +1 Business day from the above times
Orders need to be placed before 3.30pm to make it on the final courier of the day
Click here to view the full Shipping Details and Returns Policy.