Cellucor C4 Carbonated On-The-Go Rtd's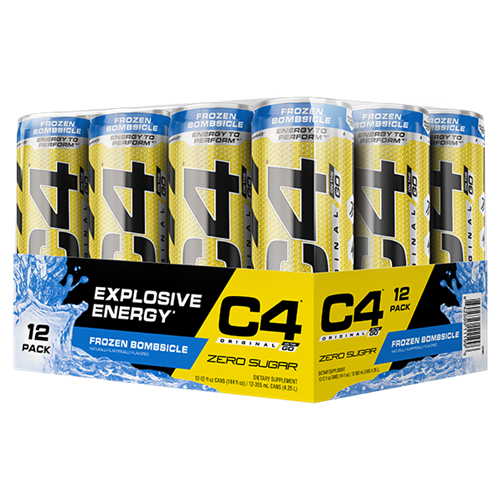 The original explosive pre-workout is now available in a delicious, sugar-free carbonated form! Featuring 200mg of caffeine. Carnosyn Beta-Alanine, and Citrulline Malate in every serving – Cellucor C4 Carbonated Original On The Go packs the legendary energy, endurance, and pumps that you know and love from C4! Don't forget about that incredible C4 taste – with zero calories, zero carbs, and zero sugar!
Cellucor C4 Carbonated Original On The Go features:
Caffeine Anhydrous (200mg per bottle):
Caffeine Anhydrous supports energy, mental alertness, and can help in the performance of cognitive tasks and reaction times. In addition, Caffeine Anhydrous has thermogenic properties.
CarnoSyn Beta-Alanine:
In every serving, Carbonated C4 Original On The Go includes the clinically studied CarnoSyn Beta-Alanine. Beta-Alanine is an amino acid which makes a compound in your body called carnosine, which supports muscular endurance. Beta-Alanine can sometimes produce a harmless tingling sensation throughout the body.
Citrulline Malate:
Citrulline Malate is used as a precursor to Arginine and nitric oxide production. Citrulline Malate may support an increase in nitric oxide levels.
BetaPower Betaine Anhydrous:
BetaPower® Natural Betaine is a high-purity anhydrous Betaine, derived from the molasses of sugar beets. Betaine is naturally found in many other foods such as vegetables, salmon, shrimp, and some grain products (does not contribute to shellfish allergies and gluten intolerances). Due to its chemical structure, it helps to maintain the cells electrolyte concentration and supports hydration.
N-Acetyl-L-Tyrosine: N-Acetyl-L-Tyrosine is a more soluble form of L-Tyrosine, which supports the production of noradrenaline and dopamine. This plays a role in supporting mental and cognitive health during stressful activities – such as physical training.


Container Size: Box 12x 355ml
Serving Size: 1 Can
Servings Per Container: 12
Free Shipping Nationwide:
FREE EXPRESS SHIPPING – NEW ZEALAND WIDE
TRACK AND TRACE TO YOUR FRONT DOOR
Delivery Times
North Island - Overnight
South Island - +1 Business day
(Overnight delivery service available during check out) Rural - +1 Business day from the above times
Orders need to be placed before 3.30pm to make it on the final courier of the day
Click here to view the full Shipping Details and Returns Policy.
There are not yet any reviews on this product.