Ehp Labs F45 Challenge Fat Burning Combo
Doing the F45 Challenge? Grab the three hottest supplements on the market the EhpLabs F45 Challenge Fat Burning Combo.
This combo contains:
EHpLabs Beyond BCAA (50 Serve)

EhpLabs Glutamine (100 Serve)

EhpLabs Acetyl L-Carnitine (100 Serve)
Ehp Labs Beyond BCAA features the three essential branched chain amino acids but also incorporates several other amino acids and key ingredients to fully maximize not only performance and endurance during exercise but recovery times post workout.
Beyond BCAA is scientifically formulated with the optimal proven 2:1:1 ration of the branched chain amino acids: leucine, iso-leucine and valine. Combined with Alpha HICA, Citrulline Malate, Taurine, Tyrosine, Vitamin C, Full B Vitamin Spectrum and Electrolytes.
Ehp Labs Beyond BCAA features:
Helps with the development of lean muscle mass

Limits lactic acid build up and muscle soreness

Limits muscle tissue breakdown (anti-catabolic)

Limits cortisol release and post-workout crashes

Muscle protein synthesis

Muscle hydration

Energy and nutrient delivery

Help with endurance and stamina

Zero stimulants, sugar, fat and fillers
L-Glutamine is the most abundant amino acid found in muscle cells, comprising over 60% of skeletal muscle. Ehp Labs L-Glutamine promotes lean muscle protein synthesis and natural human growth hormone release. Research studies have also shown L-Glutamine to promote gut health and boost immunity.
EHP Labs Acetyl L-Carnitine is often used as a fat burner and while it is not as potent as thermogenics (which boost metabolism), Acetyl L-Carnitine makes fat more mobile and better able to enter the fat-burning cells called mitochondria. This "switches on" fat burning so you can burn fat more effectively – especially during exercise. This is why Acetyl L-Carnitine is often added to pre and intra-workout drinks.
What is Acetyl L-Carnitine? It is a naturally occurring amino acid that promotes the transportation of free fatty acids into the mitochondria (core of the cells), where they are burned off as energy. Acetyl L-Carnitine also assists muscle recovery after strenuous exercise and promotes optimal heart and brain function.
EHPlabs wants to ensure that the Acetyl L-Carnitine pharmaceutical quality is maintained, hence, this product has not been artificially flavoured or coloured.
Ehp Labs Acetyl L-Carnitine features:
100% Pure Pharmaceutical grade

Helps mobilises and transports fat to use it for energy

Helps with recovery after workouts

Maximises the effects of OxyShred

Zero stimulants, sugars, carbs and fillers

Due to the products purity contents will be harden inside the container
Ehp Labs wanted to ensure that the Acetyl L-Carnitine pharmaceutical quality was maintained, hence, this product has not been artificially flavored or coloured. Acetyl L-Carnitine has a naturally occurring sour lemon taste
EHPLabs Acetyl will always be somewhat hard and will in most cases need some clumps to be broken down, this is due to the fact the the EHPlabs Acetyl is 99.9% HPLC tested, so unlike most Acetyl's there's no anti clumping powder or filler to keep it softer.
EHPLabs Beyond BCAA
Container Size: 480G
Serving Size: 1 Scoop (9.6g)
Servings Per Container: 50

Directions:
Mix 1 scoop of Beyond BCAA with 350ml of cold water. For high intensity or long training sessions, mix 2 scoops of Beyond BCAA with 590ml of water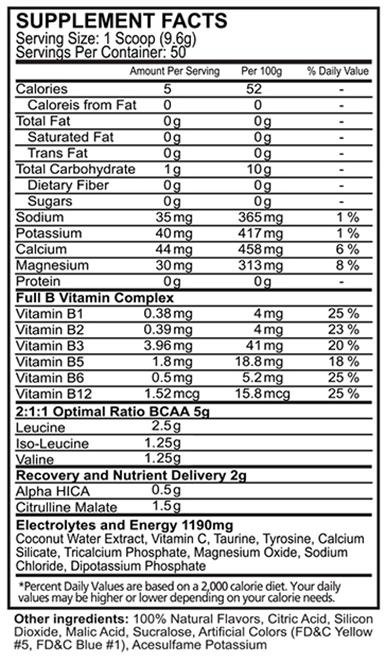 EhpLabs Glutamine:
Container Size:500G
Serving Size: 5g
Servings Per Container: 100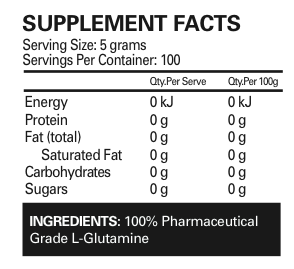 EHPLabs Acetyl L-Carnitine:
Container Size: 100G
Serving Size: 1 Scoop (1g)
Servings Per Container: 100
Directions:
Take 1 to 2 scoops of EHPLabs Acetyl L-Carnitine with 295ml of water, fruit juice or another flavoured beverage of your choice. Do not exceed 5 scoops in one day.
Amount Per Serve:
Calories 0
Calories from fat 0g
Cholesterol
Carbohydrate - total 0g
Protein 0g

Other Ingredients:
100% Pharmaceutical grade Acetyl L-Carnitine
All orders are Free Shipping Nationwide:
CourierPost Express – Tracking information will be emailed to you once your order has been collected from our warehouse.
Collection 4 times a day, final pick each day at 3.45pm Monday to Friday. We will process and pack your parcel within minutes of receiving your order.
Estimated Delivery Times:
Auckland – Overnight (However many Auckland orders will be delivered the same day depending on what time the order is placed)
North Island - Overnight
South Island – Overnight (for larger parcels allow 2 business days)
*Express South Island overnight delivery service available during check out. These orders are transported by air rather than Courier Post trucks.
Rural - +1 business day from the above times
CourierPost does not operate on weekends or public holidays.
Click here to view the full Shipping Details and Returns Policy.
Ehp Labs F45 Challenge Fat Burning Combo Reviews
---