Nutra-Life Ester C 500Mg Echinacea Chews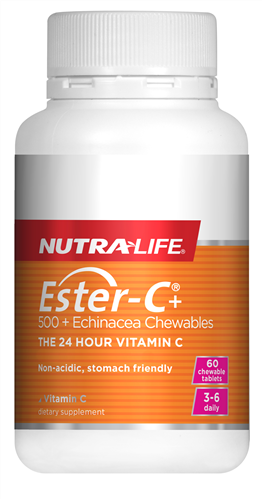 Nutra-Life Ester-C & Echinacea Chewable tablets combine Ester-C, a patented form of vitamin C, with echinacea in a convenient pleasant-tasting chewable tablet. Ester-C is absorbed into the blood stream faster and is held in the body longer than ordinary Vitamin C, improving its effectiveness. Nutra-Life Ester-C differs from other vitamin C's and is patented and scientifically supported. Ester-C is non-acidic and has been proven to be "tooth friendly" a benefit for people who prefer chewable vitamin C tablets.
Vitamin C is a water-soluble antioxidant vitamin and one of life's most important nutrients. Unlike other mammals, humans are unable to make their own vitamin C. The body does not store vitamin C for long periods of time, so it needs to be supplied in the diet each day.
Sprint Fit recommends Nutra-Life Easter-C:
Supports immunity

Improves resistance to infection

Antioxidant protection

Supports recovery

Especially suitable for children and those who find difficulty in swallowing tablets

Tasty chewable tablet
What's in Nutra-Life Easter-C?
Provides 500mg of Ester-C® together with 500mg of Echinacea for additional immune benefits

Ester-C® is absorbed twice as fast compared with ordinary vitamin C1,2 (ascorbic acid), increasing its effectiveness and activity
One of vitamin C's major roles in the body is in the synthesis and maintenance of collagen, an important structural protein needed for the formation of connective tissue. Connective tissue provides structure and support to many organs in the body and is found in skin, blood vessels, bone, teeth, tendons, cartilage and ligaments. This is especially evident following burns (including sunburn), injury or surgery, where vitamin C's powerful wound healing activity is vital for repair and recovery.

Vitamin C is also a powerful antioxidant, where it helps to defend the cells against the harmful effects of free radicals produced during stress, smoking, injury, infection, anxiety and pollution and from our own metabolism. The demands for vitamin C increase during these situations and supplementation is often required to maintain sufficient levels.

Vitamin C's antioxidant power helps protect heart health and is used by the body to support healthy capillaries and arterial walls. It also enhances the absorption of Iron, and assists the role of Iron in forming red blood cells (RBCs), making it useful in helping to prevent iron deficiency anaemia. Large concentrations of vitamin C are found in the adrenal glands, which are important for managing the body's stress response. In fact, during stress, vitamin C reserves are used up more rapidly than normal and supplementation is often recommended to individuals who suffer from chronic stress.


Container Size: 60 Tablets
Serving Size: 1 - 2 Tablet
Servings Per Container: 60
Directions:
Adults: One to two tablets chewed three or four times daily or as directed by your healthcare professional.
Children: Five to ten years: Chew one tablet up to twice daily or as directed by your healthcare professional.
Amount Per Serve:
Ester-C® (Calcium Ascorbate - Threonate Complex) 500mg
Echinacea purpurea Herb Juice conc.
Equiv. Echinacea purpurea Herb Fresh 500mg
Free Shipping Nationwide:
FREE EXPRESS SHIPPING – NEW ZEALAND WIDE
TRACK AND TRACE TO YOUR FRONT DOOR
Delivery Times
North Island - Overnight
South Island - +1 Business day
(Overnight delivery service available during check out) Rural - +1 Business day from the above times
Orders need to be placed before 3.30pm to make it on the final courier of the day
Click here to view the full Shipping Details and Returns Policy.
Nutra-Life Ester C 500Mg Echinacea Chews Reviews
Write Review
---
There are not yet any reviews on this product.