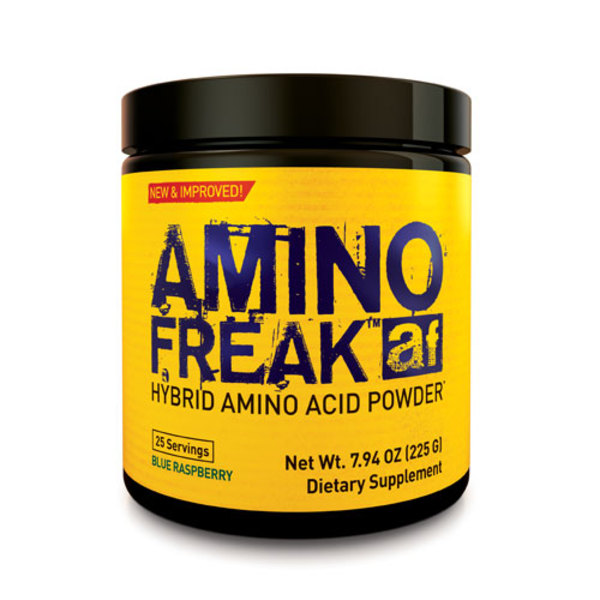 Pharmafreak Amino Freak is an advanced amino acid formula utilising the newest cutting edge technology on the market to deliver a product superior to anything else like it.
Amino Freak is definitely not your basic amino acid formula and is made up of clinically-proven dosages of the world's most research-validated anabolic/anti-catabolic amino acids. Amino Acids & Bcaa's are vital for overall health as well as supporting fitness goals such as muscle growth and body fat loss.
Pharmafreak Amino Freak features:
Enhance amino acid absorption
Enhance muscle growth and recovery
Reduce post-exercise muscle soreness and tissue damage
Decrease catabolic hormone levels
Amino Freak delivers nutrients through multiple pathways, maximizing your body's overall ability to transport, deliver nutrients, and ultimately support recovery. This supplements is ideal for hard training men or women who require a highly rated performance, recovery, and hydration formula to maximize workouts.
Sprint Fit recommends for Muscle Growth, stack with Mutant Mass for maximum results.
Container Size: 225G
Serving Size: 1 Scoop (9g)
Servings Per Container: 25

Directions:
Use Amino Freak to support the processes that build and repair muscle in your body. Mix 1 scoop with 150ml of a cold beverage and drink two times per day. If needed, you can use two scoops to make a single serving taken once per day.

Amount Per Serve:
45:30:25 Clinically-Validated BCAA Ratio 3.3g
L-Leucine 45%
L-Valine 30%
L-Isoleucine 25%
L-Glutamine 2g
Calcium Carbonate Anti-Cortisol Amino Acid Complex 25mg
L-Theanine 100mg
AstraGin™ (Panax Notoginseng - Astragulus Membranaceous) 5mg

Other Ingredients:
Citric Acid, Maltodextrin, Natural And Artificial Flavors, Acesulfame Potassium, Sucralose, Silicon Dioxide. AstraGin™ Is A Trademark Of NuLiv Science
Free Shipping Nationwide:
FREE EXPRESS SHIPPING – NEW ZEALAND WIDE
TRACK AND TRACE TO YOUR FRONT DOOR
Delivery Times
North Island - Overnight
South Island - +1 Business day
(Overnight delivery service available during check out) Rural - +1 Business day from the above times
Orders need to be placed before 3.30pm to make it on the final courier of the day
Click here to view the full Shipping Details and Returns Policy.