Inner Armour Anabolic Test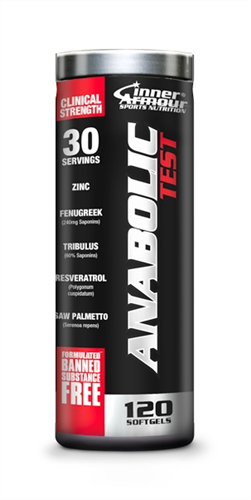 Inner Armour Anabolic Test is a next-generation anabolic compound. This extreme formula was created to focus in on all areas of hardcore hormonal support including supporting testosterone production, inhibiting aromatase (Reducing conversion of Testosterone to Estrogen), and optimizing positive hormonal balance.
Inner Armour Anabolic Test features:
Help increase production of testosterone
Promote strong dense muscle
Support training recovery
Contains Testofen, Fenugreek Extract
Tribulus
Resveratrol
Inner Armour Anabolic Test also has the ability to help you recover faster after gruelling workout sessions so you can keep charging through workout after workout and packing on muscle.
If you looking for a testosterone support formula for maximum gains and training potential then this is definitely the product for you!
Sprint Fit recommends for Muscle Growth, stack with Inner Armour 100% Isolate Zero Protein for maximum results.
Container Size: 120 Capsules
Serving Size: 4 Capsules
Servings Per Container: 30
Directions:
As a dietary supplement, take 4 capsules daily before bedtime.
DO NOT EXCEED RECOMMENDED DOSAGE
Amount Per Serve:
Anabolic Test Matrix 767mg
Zinc (as Aspartate) 15mg
Magnesium (as Magnesium Aspartate) 90mg
Vitamin B6 (as Pyridoxine HCL) 10.5mg
Testosterone Optimizing Matrix
Testofen Fenugreek (Trigonella foenum graecum)(seed).
Luteinizing Hormone Stimulatory Agent
Tribulus Terrestris
Zinc-T Support Matrix
Zinc Asparate, Magnesium Asparate, Vitamin B6.
DHT Madulation System
Saw Palmetto Extract, Stinging Nettle Root.
Anti-Aromatase Complex
Hesperetin, Resveratrol.
Other Ingredients:
Gelatin, Magnesium Stearate.
Free Shipping Nationwide:
FREE EXPRESS SHIPPING – NEW ZEALAND WIDE
TRACK AND TRACE TO YOUR FRONT DOOR
Delivery Times
North Island - Overnight
South Island - +1 Business day
(Overnight delivery service available during check out) Rural - +1 Business day from the above times
Orders need to be placed before 3.30pm to make it on the final courier of the day
Click here to view the full Shipping Details and Returns Policy.
Inner Armour Anabolic Test Reviews
---