Nutra-Life Biolane Seatone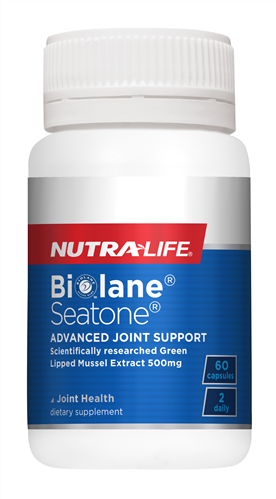 Nutra-Life Biolane Seatone a high-potency, maximum-strength Biolane green mussel extract to support joint health. Seatone is an encapsulated form of Biolane Active GLME, an extract made from the finest grade of New Zealand Green Lipped Mussels. The fresh mussels are processed promptly after harvesting. A liquid extract is prepared from the mussels, then freeze dried, milled and encapsulated. No chemicals, solvents, or heat are used in this extraction process, which is designed to maximise the anti-inflammatory activity.
Nutra-Life Biolane Seatone features:
Healthy joint mobility, flexibility, resilience and suppleness
Assisting in repairing joint and cartilage damage
Protecting against discomfort associated with sports injuries, pain, inflammation and strains
Joint and muscle recovery following sports injuries or surgery
Digestive problems arising from pharmaceutical anti-inflammatory medication
What's in Nutra-Life Biolane Seatone:
A high-potency, maximum-strength Biolane mussel extract, sourced from 100% pure premium-quality New Zealand Green Lipped Mussels
Manufactured using a unique process of cold extraction
Provides a high level of biologically active, naturally occurring Green Lipped Mussel compounds, including a rich blend of proteins, minerals, enzymes, mucopolysaccharides, and Omega 3 fatty acids
Green Lipped Mussels contained in Nutra-Life Biolane Seatone are farmed in the unpolluted southern seawaters of New Zealand under stringent government regulations to guarantee purity and potency. This ensures the supply of top quality shellfish with no danger from contamination by bacteria or chemicals, such as mercury or cadmium. In addition, regular testing and inspection for these contaminants is carried out at every stage of production to ensure a high quality product.
Amount Per Serve:
Container Size: 60 Capsules
Serving Size: 1 Capsule
Servings Per Container: 60
Directions:
Take 1 capsule daily with food, or as directed by your healthcare practitioner
For an initial course, up to 2 capsules daily may be taken for 3 months or longer as required
Amount Per Serve:
Biolane Active Green Lipped Mussel Extract 500mg
(Sourced from New Zealand Green Lipped Mussels)

Encapsulating aids

Formulated without: Wheat, gluten, milk derivatives, yeast, corn, soy, starch, colour, flavour, preservatives
Precautions and Contra-indications:
Customers taking Warfarin or other blood thinning medication should consult their doctor before using this product
Not suitable for those with seafood allergies
Not suitable for those with gout
Not recommended during pregnancy or breastfeeding
Excess dosage may cause rash, fluid retention, nausea, or digestive upset
Free Shipping Nationwide:
FREE EXPRESS SHIPPING – NEW ZEALAND WIDE
TRACK AND TRACE TO YOUR FRONT DOOR
Delivery Times
North Island - Overnight
South Island - +1 Business day
(Overnight delivery service available during check out) Rural - +1 Business day from the above times
Orders need to be placed before 3.30pm to make it on the final courier of the day
Click here to view the full Shipping Details and Returns Policy.