Nutra-Life Super Calcium Gold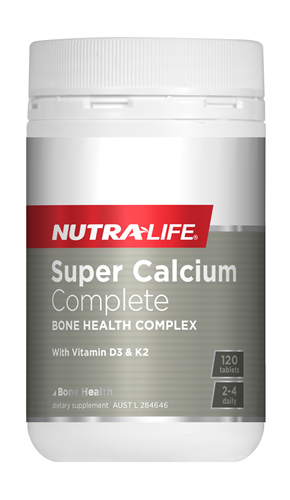 Nutra-Life Super Calcium Gold provides complete skeletal support in a high absorption, scientifically based Calcium formula for maitaining optimum bone strength and function. This advanced formula provides bone building nutrients including Calcium, Magnesium, Vitamin D, Boron, together with other nutritional cofactors needed to reduce the risk of osteoporosis.
This Calcium supplement provides better calcium absorption due to a higher ratio of hydroxyapatite. Getting enough Calcium, whether through your diet or supplements, is essential to maintaining bone strength. However, many men and women do not consume enough Calcium in their diets.
Nutra-Life Super Calcium Complete Gold features:
Maintaining strong, healthy bones and optimal bone density
Bone strength and function
Protecting against a calcium nutritional deficiency
Replaces Nutra-Life Super Calcium Complete
Nutra-Life Super Calcium Complete Gold contains:
Each tablet provides 274mg of elemental calcium from 2 bioavailable sources including calcium citrate and high strength hydroxyapatite for optimal bone health
Magnesium supports bone density
Vitamin D3 supports the uptake of calcium by assisting transport of calcium into the body
Plus nutritional cofactors including zinc, boron, manganese, vitamin K to benefit bone mineralisation
The key to bone health is not just in how much calcium is consumed, but how much is absorbed; and Calcium citrate and Hydroxyapatite are both highly absorbable calcium forms. Hydroxyapatite is naturally present in bone, so the body needs to do little to it in order to absorb and use it. Calcium citrate has also been scientifically shown to be better absorbed than Calcium Carbonate (a common form of Calcium in supplements) in people with low stomach acid.
Amount Per Serve:
Container Size: 120 Tablets
Serving Size: 1 Tablet
Servings Per Container: 120
Directions:
Take 1-4 tablets daily or as directed by a healthcare professional. Always read the label. Use strictly as directed. If symptoms persist, consult your healthcare professional.
Amount Per Serve:
Calcium (as Citrate) 50mg
Calcium (from Hydroxyapatite) 224mg

Total Elemental Calcium 274mg
Cofactors:
Magnesium (as Oxide-heavy) 135mg
Manganese (as Amino Acid Chelate) 1mg
Boron (from Borax) 500mcg

Zinc (as Gluconate) 325mcg

Phytomenadione (Vitamin K1) 5mcg
Cholecalciferol (Vitamin D3) 6.2mcg
Equisetum arvense (Horsetail) herb ext. equiv. dry 50mg
Formulated Without: Gluten, dairy, nuts, yeast, artificial colours or flavours
Precautions and Contra-indications
Patients on prescription medicines, including warfarin, should consult their doctor before using this product
Free Shipping Nationwide:
FREE EXPRESS SHIPPING – NEW ZEALAND WIDE
TRACK AND TRACE TO YOUR FRONT DOOR
Delivery Times
North Island - Overnight
South Island - +1 Business day
(Overnight delivery service available during check out) Rural - +1 Business day from the above times
Orders need to be placed before 3.30pm to make it on the final courier of the day
Click here to view the full Shipping Details and Returns Policy.
Nutra-Life Super Calcium Gold Reviews
---