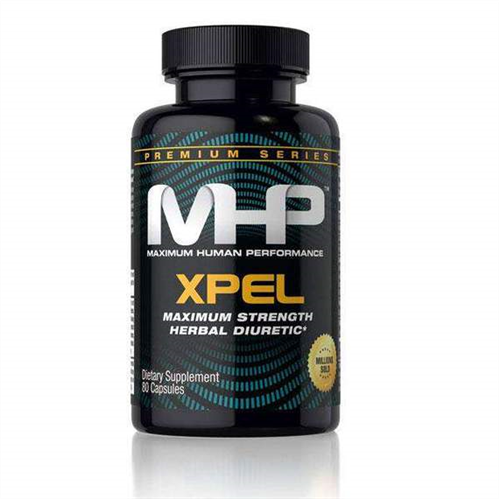 MHP Xpel Water Loss capsules are an extremely powerful herbal diuretic designed to help the body dramatically eliminate excess water retention from beneath the skin. This product is great to use for those carrying exercise water, especially before a competition.
At any given time, you could be carrying up to 10-20 lbs. of excess water. This natural phenomenon is called "subcutaneous water", and it can easily contribute to a "soft and puffy" appearance and uncomfortable feeling. If you're a bodybuilder, bikini or figure competitor, subcutaneous water can prevent you from being "dialed in" at your next contest. If you're someone simply looking to lose a few pounds fast, subcutaneous water can prevent you from fitting into those jeans you want to wear this weekend.
Unlike other water formulas on the market, the electrolyte blend in XPEL helps keep the inside of your muscle cells hydrated, important for muscle strength or helping prevent that "flat" look. And although XPEL is powerful enough for pro athletes, it's also perfect for fitness enthusiasts of all levels who are looking to have a sharp, lean, muscular appearance
Container Size: 80 Capsules
Serving Size: 4 Capsules
Servings Per Container: 20


Free Shipping Nationwide:
FREE EXPRESS SHIPPING – NEW ZEALAND WIDE
TRACK AND TRACE TO YOUR FRONT DOOR
Delivery Times
North Island - Overnight
South Island - +1 Business day
(Overnight delivery service available during check out) Rural - +1 Business day from the above times
Orders need to be placed before 3.30pm to make it on the final courier of the day
Click here to view the full Shipping Details and Returns Policy.