Optimum Nutrition Micronised Creatine Powder
Optimum Nutrition Micronised Creatine Powder supplies a full 5 grams (5000 mg) of Creatine Monohydrate. Optimum Nutrition's patented production method used to produce this creatine yields a tasteless, odourless powder that mixes easily into water or juice and does not readily settle to the bottom. As a result, the gritty taste or texture you may have experienced with other creatine powders is not associated with this product.
Optimum Nutrition Micronised Creatine Powder features:
Increase strength and muscle

Micronized to stay suspended in solution longer

Unflavoured

No fillers or additives

Supports strength and power
How does creatine work? Creatine is a compound that's involved in the production of energy in the body, in the form of adenosine triphosphate (ATP). Creatine increases production of ATP, more ATP means more muscular fuel for your workouts. Creatine works by replenishing the body's glycogen stores, which aid in muscle growth. Creatine is found naturally in the body as a chemical produced by amino acids that aid the body in creating skeletal muscle. Increase muscle and strength with Sprint Fit Optimum Nutrition Micronised Creatine Powder.
Micronised Creatine helps supply energy to muscle cells by increasing the formation of adenosine tri-phosphate (ATP) in the body. Increased ATP causes an increase in muscle energy, resulting in greater muscle force and increased muscle recovery. Optimum Nutrition Micronized Creatine therefore allows you to train harder and recover from workouts faster. Combine this increase in training intensity and muscle recovery with a sensible dieting and training regime, and Optimum Nutrition Micronised Creatine will help you build muscle
Container Size: 150g
Serving Size: 1 Teaspoon (5g)
Servings Per Container: 28
Container Size: 300g
Serving Size: 1 Teaspoon (5g)
Servings Per Container: 57
Container Size: 600g
Serving Size: 1 Teaspoon (5g)
Servings Per Container: 114
Container Size: 1.20KG
Serving Size: 1 Teaspoon (5g)
Servings Per Container: 228
Directions:
Add 1 rounded teaspoon of Micronised Creatine Powder with a glass filled with 300ml of cold water or fruit juice. Then mix it up with a spoon. TIP: Power-up protein, meal-replacement, and weight-gainer shakes with a rounded teaspoon of Micronized Creatine Powder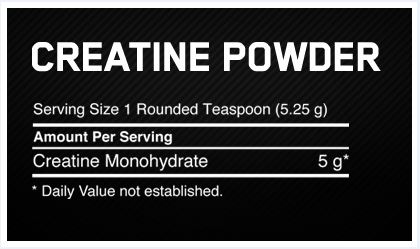 Please Note: Nutritional Information is to be used as a guide only, actual values may differ between flavours and sizes and when formulations are modified or updated by the manufacturer.
Contact us if you have any questions regarding this products ingredients.
All orders $40 and over receive Free* Shipping Nationwide
Estimated Delivery Times*:
Auckland – Overnight (However many Auckland orders are be delivered the same day depending on what time the order is placed)
North Island - Overnight
South Island – Overnight (For larger parcels allow 2 business days)
Same Day/Evening Express Shipping upgrade available at checkout for select suburbs*
Click here to view the full Shipping Details and Returns Policy.
Optimum Nutrition Micronised Creatine Powder Reviews
---
Rene

Published Thursday, 2 September 2021

3 weeks of using this and I noticed a difference in my weight training. I just mix it with water, does get a little grainy at the bottom but I just add a bit more water at the end.