Switch Nutrition Vitality Switch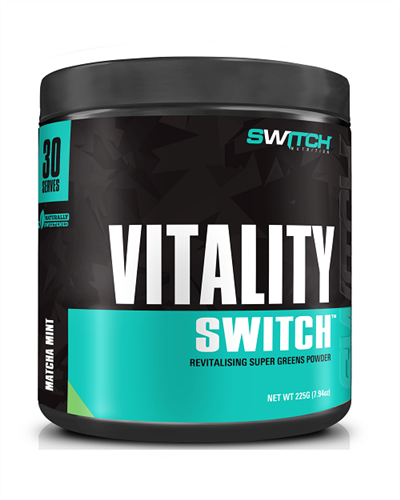 PROMOTION (1)

Switch Nutrition Vitality Switch is an all in one revitalising Super Greens Wholefood powder. The 33 ingredients have been hand-selected to provide you with the planet's healthiest nutrients. It contains 5 super food blends to optimise your body's systems. Vitality Switch is not Vegan as it contains Wild Caught Sustainable Marine Collagen. This is a key ingredient which is critical to the performance of our product.
Switch Nutrition Vitality Switch features:
Gluten Free

Lactose Free

Soy Free

Dairy Free

No added surgar

Keto Friendly

100% Open label

100% Open Label

Manufatured in a GMP and Haccp Certified facility
Super Greens Whole Food Blend
Blend of organic, spray free and sustainably farmed super greens will help to support your micronutrients requirements. This blend will supply you with concentrated extracts yielding high levels of antioxidants, vitamins and minerals you may be missing from your everyday diet.
Organic Mushroom Blend
Blend of Super Fungi may help support all vital systems of your body. Many of the Organic mushrooms in our blend have been used for centuries. Science is now catching up and showing how this blend can help you adapt to your workout.
Digestive Enzyme Blend
A lot of people do their best to eat healthy, but their digestive systems are just not breaking down and absorbing the nutrients found in their food. We have specifically added a super digestive enzyme blend to help you get the nutrients from the food you eat.
Gut Blend
Gut health blend is designed to help support a healthy microbiome. They have added a Wild Caught Sustainable Marine Collagen that is 150% more bioavailable than bovine or porcine collagen. Our carefully selected 3 strain heat stable probiotic blend may help you fight the baddies in your belly.
Cleanse and Health Support Blend
The entire formula will work together to support your healthy function. We've specifically added Himalayan Shilajit as its one of the planet's richest sources of fulvic and humic minerals. This natural colloidal micro mineral blend will help support your bodies daily needs.
Container Size: 30 Serves
Serving Size: 1 Scoop (7.5g)
Servings Per Container: 30
Free Shipping Nationwide:
FREE EXPRESS SHIPPING – NEW ZEALAND WIDE
TRACK AND TRACE TO YOUR FRONT DOOR
Delivery Times
North Island - Overnight
South Island - +1 Business day
(Overnight delivery service available during check out) Rural - +1 Business day from the above times
Orders need to be placed before 3.30pm to make it on the final courier of the day
Click here to view the full Shipping Details and Returns Policy.
There are not yet any reviews on this product.