Optimum Nutrition Opti-Men
Optimum Nutrition Opti-men should be taken by adults because it's hard to consume all the different types of food we're supposed to eat every single day, adults should take a multivitamin for nutritional insurance. Of course, the nutrient needs of hard-training overachievers exceed the requirements of less active people. Also contains 200mcg of folic acid.
That's why Optimum Nutrition developed a super-multi formulated exclusively for very active men. With 5 performance blends and over 75 active ingredients, Opti-Men is the nutrient optimisation system to help you take your game to a higher level. It's more than a multi, it's a complete Nutrient Optimisation System, providing the ultimate in performance supplementation. With more than 75 distinct ingredients, it lays a solid foundation for everyday health, performance, and vitality.
Optimum Nutrition Opti-Men features:
Performance multi vitamin with over 70 active ingredients

5 male gender specific blends

Complete nutrition system supporting a strong foundation, increasing energy and lifting performance and vitality.

Provides all the essential factors necessary for thousands of metabolic reactions in the body.
Optimum Nutrition Opti-Men contains?
Amino-Blend Contains 8 key free-form acids (including Arginine, Glutamine, and BCAAs), the building blocks of lean muscle growth and development.

Viri-Blend Contains 8 exotic botanicals and marine concentrates designed to enhance your male edge.

Phyto-Blend Contains over 20 antioxidant-rich fruit and vegetable concentrates to help combat free radicals.

Enzy-Blend Contains 4 specific enzymes for enhanced nutrition digestion and absorption.

Opti-Blend Comprehensive nutritional coverage with 25 vitamins and essential minerals with an emphasis on antioxidants and B-vitamins.

Contains digestive enzymes and high potency vitamins and minerals
Sprint Fit recommends for Muscle Growth stack with Optimum Nutrition Gold Standard 100% Whey
Available Sizes:
Container Size: 90 Tablets
Serving Size: 1 Tablet
Servings Per Container: 90
Container Size: 180 Tablets
Serving Size: 1 Tablet
Servings Per Container: 180
Container Size: 240 Tablets
Serving Size: 1 Tablet
Servings Per Container: 240
Directions:
As a dietary supplement for men, consume 1 tablet daily with food (New Zealand serving suggestion)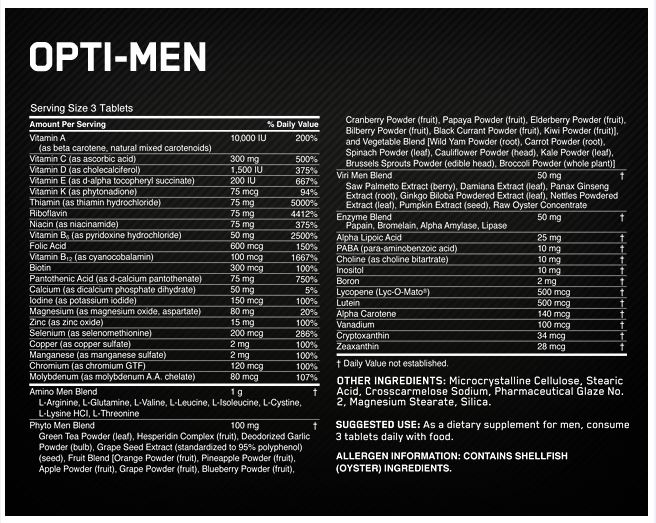 Please Note: Nutritional Information is to be used as a guide only, actual values may differ between flavours and sizes and when formulations are modified or updated by the manufacturer.
Contact us if you have any questions regarding this products ingredients.
All orders $40 and over receive Free* Shipping Nationwide
Estimated Delivery Times*:
Auckland – Overnight (However many Auckland orders are be delivered the same day depending on what time the order is placed)
North Island - Overnight
South Island – Overnight (For larger parcels allow 2 business days)
Same Day/Evening Express Shipping upgrade available at checkout for select suburbs*
Click here to view the full Shipping Details and Returns Policy.
Optimum Nutrition Opti-Men Reviews
---