Balance Ultra Ripped Protein
Balance Ultra Ripped Protein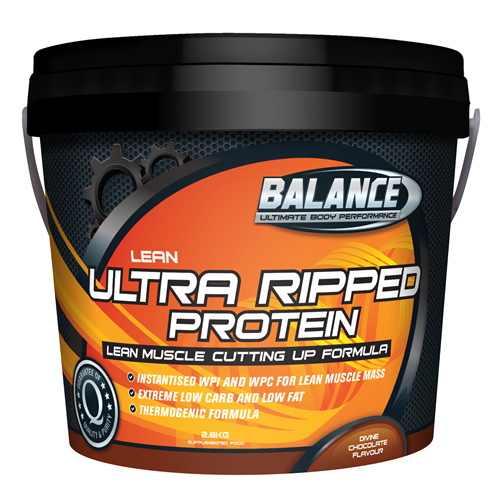 Balance Ultra Ripped Protein is an ultra-high protein, low carb and fat protein powder for the ultimate lean, ripped body.
Shred your unwanted body fat and emphasis your awesome muscle tone with the help of Balance Ultra Ripped Protein powder.
Ultra Ripped contains the highest quality, New Zealand made Whey Protein Isolate as the sole protein source, which is easily digested for maintaining muscle and assisting repair. Added thermogenics, amino acids, vitamins and minerals to assist in the release and transport of stored fat for energy. This formula caters for the special needs of the athlete wanting to protect their hard earned lean muscle mass, while significantly reducing body fat levels.
What's in Balance Ultra Ripped Protein?
23 grams of the highest quality New Zealand Whey Protein Isolate (WPI) for lean muscle mass

Loaded with BCAA's to support lean muscle mass

Carnitine to assist fat transport and metabolism

Green tea extract to help assist fat metabolism and maintain your metabolic rate

Super Citrimax to help ensure your carbs are used for energy and not stored as fat

Chromium to help manage carbohydrate metabolism and the urge to snack

Choline and Inositol to help with fat metabolism for energy production

Made in New Zealand
Balance Ultra Ripped can be used between meals to support metabolism or as recovery formula 60-90 minutes before training and within 30 minutes after exercise.

Ultra Ripped Protein is one of the best on the market, made from New Zealand Whey with added thermogenics and its 90% pure protein rating makes it very hard to go past.

Sprint Fit recommends for Muscle Growth, stack with Balance Thermo Ripped or Balance Liquid Carnitine for the maximum results.
Available Sizes:
Container Size: 750G
Serving Size: 1 Scoop (28g)
Servings Per Container: 26
Container Size: 1.5KG
Serving Size: 1 Scoop (28g)
Servings Per Container: 53
Container Size: 2.8KG
Serving Size: 1 Scoop (28g)
Servings Per Container: 100
Recommended Use:
Use between meals to support metabolism or as recovery formula 60-90 minutes before training and within 30 minutes after exercise.
Directions:
Add 28g (approximately 1 heaped scoop) to 200mL water or skim milk and stir, shake or blend until mixed. Can be used up to 3 times daily.
Amount per serve:
Energy 437kj 104cal
Protein 23g
Fat total 0.5g
Fat saturated 0.3g
Carbohydrate total 1.2g
Carbohydrate sugar 0.2g
- sugars 0.6g
Sodium 40mg
Thiamin 0.4mg
Riboflavin 0.6mg
Niacin 3.7mg
Vitamin c 14.9mg
Vitamin e 3.7mg
Vitamin b12 0.7ug
Calcium pantothenate (vitamin b6) 0.6mg
Biotin 9.3ug
Folic acid 74.
Calcium 103mg
Iron 2.4mg
Zinc 2.2mg
Selenium 4.9ug
Iodine 14.8ug
Chromium 46.5ug
Molybdenum 23.3ug
Caffeine 23.8mg
L-carnitine tartrate 280mg
Choline bitartrate 74.8mg
Inositol 74.8mg
Green tea ext equiv to dry 700mg
Garcinia cambogia 0.5mg
Hca equivalent 0.3mg
Glutamine (added) 140mg
Branched chain amino acids
Leucine 10.1g
Isoleucine 6.9g
Valine 5.9g
Threonine 7.7g
Tryptophan 1.7g
Other amino acids
Alanine 5.5g cystine 3.0g
Glutamic acid 17.2g tyrosine 3.2g
Glycine 1.7g arginine 1.9g
Histidine 1.5g serine 4.9g
Proline 5.5g aspartic acid 10.6g
Other Essential Amino Acids
Lysine 9.2g
Methionine 8.6g
Phenylalanine 2.8g
Ingredients:
Balance Protein Blend (91%) [Whey Protein Isolate, Whey Protein
Concentrate, Emulsifi er (Soy Lecithin)], Coffee Extract Powder, Flavour, Garcinia
Cambogia, Carnitine Tartrate, Vegetable Gums (Xanthan, Guar), Glutamine, Inositol,
Anticaking Agent (Silicon Dioxide), Choline Bitartrate, Vitamins and Minerals (Vitamin
C, Vitamin E Acetate, Ferrous Fumarate, Nicotinamide, Zinc Oxide, Manganese Sulfate,
Pyridoxine Hydrochloride, Vitamin B12, Calcium D-Pantothenate, Ribofl avin, Vitamin A
Acetate, Thiamine Hydrochloride, Selenomethionine, Vitamin D3, Folic Acid, Chromium
Nicotinate, Sodium Molybdate, Potassium Iodate, Biotin), Green Tea Extracts, Sweetener
(Sucralose), Glucose Syrup Solids, Lactose.
Please Note: Contains Milk and Soy Products. Contains Caffeine. Made in New Zealand from local and imported ingredients.
Free Shipping Nationwide:
FREE EXPRESS SHIPPING – NEW ZEALAND WIDE
TRACK AND TRACE TO YOUR FRONT DOOR
Delivery Times
North Island - Overnight
South Island - +1 Business day
Rural - +1 Business day from the above times
Orders need to be placed before 3.30pm to make it on the final courier of the day
Click here to view the full Shipping Details and Returns Policy.