Dymatize Super Mass Gainer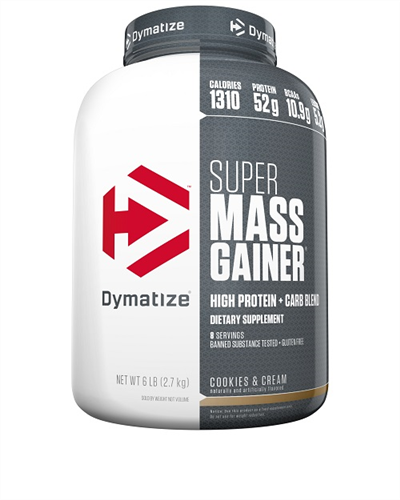 PROMOTION (1)

Dymatize Super Mass Gainer solves your calorie, protein, and convenience needs with a delicious formula designed to help you build mass and muscle. Dymatize Super Mass Gainer powers your mass gains with added L-Glutamine, BCAAs and Creatine Monohydrate. Furthermore, each serving contains 250mg of the proprietary Zytrix enzyme blend to support optimal digestion and nutrient absorption plus a full vitamin and mineral blend, all to support accelerated muscle growth.
Dymatize Super Mass Gainer features:
Delicious and convenient way to help build mass and muscle

Packed with 1,900 calories and 82g of protein

17g of BCAAs plus added L-Glutamine and

Creatine Monohydrate

Loaded with Vitamins and Minerals
Dymatize Super Mass Gainer is a highly concentrated formula. The glutamine-rich protein provides you with the necessary Proprietary Amino Acid Blend to help with rapid recovery and maximum growth. Our comprehensive blend uses Zytrix technology, a digestive enzyme formula that will allow you to take in maximum calories and maximum protein while avoiding digestive distress.

Container Size: 2.27KG (5Lb)
Serving Size: 2 Scoop (337g)
Servings Per Container: 8
Container Size: 5.4KG (12Lb)
Serving Size: 2 Scoop (334g)
Servings Per Container: 16
Free Shipping Nationwide:
FREE EXPRESS SHIPPING – NEW ZEALAND WIDE
TRACK AND TRACE TO YOUR FRONT DOOR
Delivery Times
North Island - Overnight
South Island - +1 Business day
(Overnight delivery service available during check out) Rural - +1 Business day from the above times
Orders need to be placed before 3.30pm to make it on the final courier of the day
Click here to view the full Shipping Details and Returns Policy.
Dymatize Super Mass Gainer Reviews
---
Jagjit Singh

Published Saturday, 11 June 2016

awesome product , very similar to serious mass. but i personally like serious mass , because it has just a bit more ingredients and it tastes better. low fat and sugar and high in protein , good amount of carbs as well. good value for your money.