Gaspari Superpump Max is pre-workout that is on another level. Gasparis proprietary blend is packed with all the correct ingredients and nutrients to promote muscle growth, strength and mental focus for every workout.
Gaspari Superpump Max contains an impressive amount of clinically researched muscle building and endurance enhancing ingredients that are supplied in the adequate amounts to dramatically alter the body composition of hard training athletes, stimulating an anabolic response in the body, with rapid nutrient delivery and absorption.
Gaspari Superpump Max features:
Supports muscle pumps and explosive workours

Enhances nitric oxide levels and vasodilation

Build muscle and increase muscle mass

Ingredient dosing based on published research studies

Increases endurance capacity and energy

Fights lactic acid build up within the body and muscle fatigue

Improves amino acid utilisation
Branch Chain Amino Acids are important for recovery, and have been proven in many studies to increase endurance when consumed prior to training. Gaspari has loaded their Max formula with effective doses of BCAA's to help reduce the onset of catabolism (muscle wasting).
Nitric Oxide helps to increase your heart rate and produce a stronger vascular flow through your body. This makes it easier to lift heaver weights for a longer extended period of time, which in turn leads to more muscle growth and strength. Creatine, Taurine and Caffeine are also present in this mix
If your searching for the ultimate pre-workout supplement to provide powerful training sessions then is definitely the product for you!
Container Size: 40 Serve
Serving Size: 1 Scoop (16g)
Servings Per Container: 40 Serves
Directions:
As a dietary supplement, take 1-3 scoops with 300ml of cold water 30 minutes prior to training. For first time users take one (1) scoop for your first 2 or 3 workouts to allow your body to properly assimilate to the high dosage of nutrients.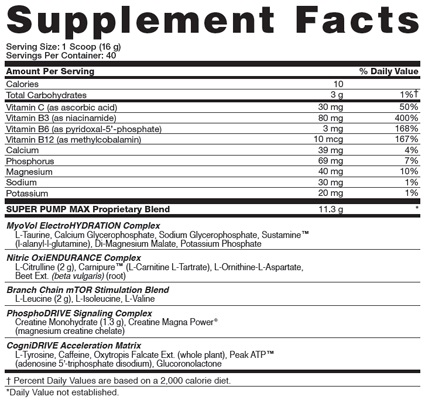 Please Note: Nutritional Information is to be used as a guide only, actual values may differ between flavours and sizes and when formulations are modified or updated by the manufacturer.
Contact us if you have any questions regarding this products ingredients.
All orders $40 and over receive Free* Shipping Nationwide
Estimated Delivery Times*:
Auckland – Overnight (However many Auckland orders are be delivered the same day depending on what time the order is placed)
North Island - Overnight
South Island – Overnight (For larger parcels allow 2 business days)
Same Day/Evening Express Shipping upgrade available at checkout for select suburbs*
Click here to view the full Shipping Details and Returns Policy.
Gaspari Superpump Max Reviews
---