Pro Supps L-Carnitine 3000
L-Carnitine assists in the breakdown of energy stores in cells and plays an essential role in making fat available for muscle tissue – promoting muscular energy. L-Carnitine utilizes the long-chain fatty acids that are present in your body for energy and also supports a healthy environment for lean muscle growth and development, which leads to a strong, lean and defined physique. L-Carnitine is not a stimulant fat burner, and with the many other general health benefits L-Carnitine should be part of your supplement stack.
ProSupps L-Carnitine 3000 features:
Free form pharmaceutical grade

Promotes exercise recovery

Supports energy & fat metabolism

Enhance mental clarity

Antioxidant

Suitable for Vegetarians
Free of: Gluten, Wheat, Dairy, Soy, Yeast. ProSupps Liquid L-Carnitine 3000 supports energy & fat metabolism. Buy online from Sprint Fit & receive fast shipping NZ wide. Make your purchase with Afterpay, Oxipay, Partpay, Genopay & Laybuy.
Container Size:465ml
Serving Size: 1 Tablespoon (15ml)
Servings Per Container: 31

Directions:
Shake well before use. As a dietary supplement for adults, take one (1) tablespoon (15 ml) twice daily, preferably on an empty stomach or as directed by a healthcare practitioner.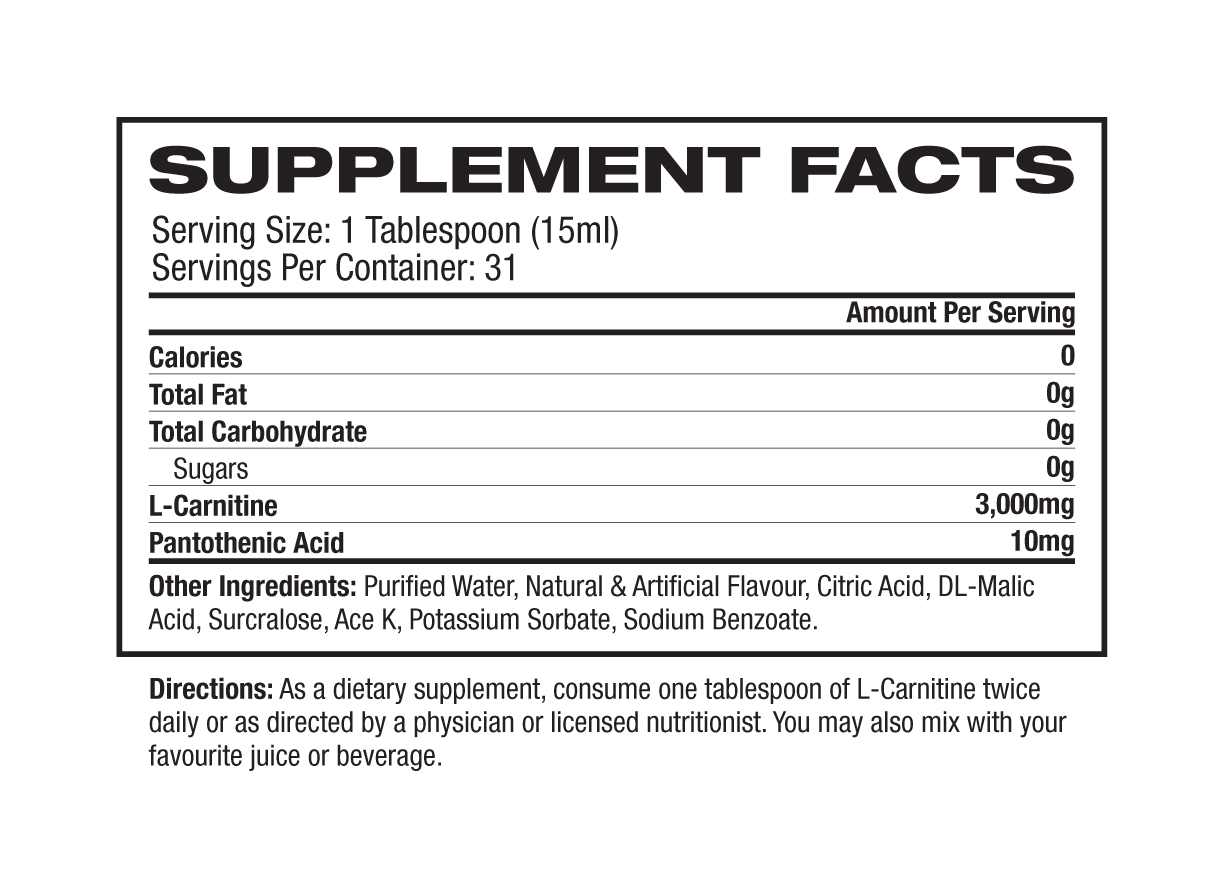 Please Note: Nutritional Information is to be used as a guide only, actual values may differ between flavours and sizes and when formulations are modified or updated by the manufacturer.
Contact us if you have any questions regarding this products ingredients.
All orders $40 and over receive Free* Shipping Nationwide
Estimated Delivery Times*:
Auckland – Overnight (However many Auckland orders are be delivered the same day depending on what time the order is placed)
North Island - Overnight
South Island – Overnight (For larger parcels allow 2 business days)
Same Day/Evening Express Shipping upgrade available at checkout for select suburbs*
Click here to view the full Shipping Details and Returns Policy.
Pro Supps L-Carnitine 3000 Reviews
---