Pharmafreak Ripped Freak Diuretic
Pharmafreak Ripped Freak Diuretic is a hybrid diuretic/detox formula that delivers an effective dose of diuretic ingredients to help promote excretion of excess water, producing a harder, leaner and more defined looking physique.
Ripped Freak Diuretic supplies 8,000mg of Dandelion root that was proven in real human studies to show a significant increase in water loss.
Sprint Fit recommends Ripped Freak Diuretic:
For athletes preparing for bodybuilding, fitness or figure competitions

Hybrid diuretic / detox formula

Water loss

Anti-cramping complex (magnesium)

Supports body detoxification

Increase muscle definition
A natural blend of herbal ingredients which have been designed to help get results fast in individuals who are following an appropriate nutrition & exercise programme. So fast in fact that this extreme formula is recommended for 3 continuous days maximum use.
Ripped Freak Diuretic is excellent for athletes preparing for bodybuilding, fitness or figure competitions, photo shoots, holidays/ vacations, or any special functions or days when you want to look your absolute best. This formula is ideal for men, women or any athlete who is preparing for a show or a special function, and need to lose excess water to enhance muscle definition and appear harder and leaner.
Container Size: 48 Capsules
Serving Size: 4 Capsule
Servings Per Container: 12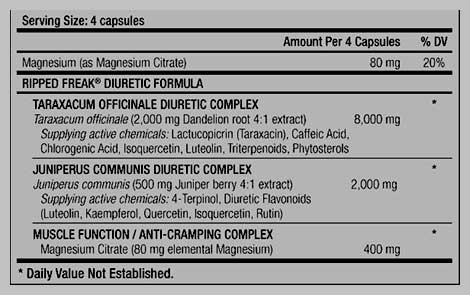 Please Note: Nutritional Information is to be used as a guide only, actual values may differ between flavours and sizes and when formulations are modified or updated by the manufacturer.
Contact us if you have any questions regarding this products ingredients.
All orders $40 and over receive Free* Shipping Nationwide
Estimated Delivery Times*:
Auckland – Overnight (However many Auckland orders will be delivered the same day depending on what time the order is placed)
North Island - Overnight
South Island – Overnight (For larger parcels allow 2 business days)
Same Day/Evening Express Shipping upgrade available at checkout for select suburbs*
Click here to view the full Shipping Details and Returns Policy.
Pharmafreak Ripped Freak Diuretic Reviews