Gaspari Size On Maximum Performance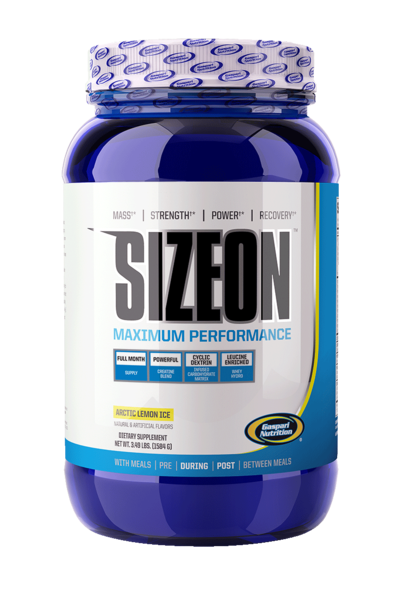 Gaspari Size On Maximum Performance can be utilised by anyone wishing to speed their recovery, build muscle mass and increase performance.
This Creatine Supplement is a hybrid intra-workout whey hydrolysate creatine formula that has a carbohydrate matrix included in its unique blend to provide a dramatic boost in your training performance and muscle recovery. It contains Gaspari's Outlast Carbohydrate Complex. This complex contains pterostilbene, which helps push carbohydrates, amino acids and other nutrients into your skeletal muscle cells to maximise glycogen synthesis, cell volume and myogenesis, helping you to bulk up as fast as possible.
Gaspari Size On Maximum Performance features:
Intra-workout whey hydrolysate creatine formula

Supports muscle volume, muscle fibre size, cell volume and plasma amino acid levels

Maximum muscle building and muscle growth

Encourages myogenesis and muscle recovery while you are still training

Delivers vital nutrients, essential minerals, and growth cofactors to skeletal muscle tissue
The formula also contains the revolutionary outlast carbohydrate complex for maximal performance in the gym and recovery and it contains pterostilbene a naturally occurring insulin secretagogue - which helps to push those carbohydrates (and amino acids and other nutrients) into skeletal muscle cells to maximize glycogen synthesis, cell volumisation and myogenesis. This formula is geared towards an athlete looking to "bulk up as fast as possible.
Container Size: 1.584KG
Serving Size: 1/2 Scoop (33g)
Servings Per Container: 48
Recommended Use:
Size On Maximum Performance is to be taken on training days while you train.
Directions:
Mix one scoop in 400ml of cold water (drink bottle) and sip throughout your workout. Should the need arise add more water as necessary throughout your workout for proper hydration.
Amount Per Serving:
Total Calories: 180
Protein: 7g
Total Carbohydrates: 39g
Sugars: 37g
Vitamin C (As Ascorbic Acid): 60mg
Thiamin (As Thiamin Hydrochloride): 10mg
Riboflavin (As Riboflavin-5-Phosphate): 7.6mg
Niacin (As Niacinamide): 50mg
Vitamin B6 (As Pyridoxine-5-Phosphate): 16.8mg
Folate (As Folic Acid): 200mcg
Vitamin B12 (As Methylcobalamin): 75mcg
Pantothenic Acid (As D-Calcium Pantothenate): 9mg
Calcium: 51mg
Phosphorus: 103mg
Magnesium: 45mg
Sodium: 280mg
Potassium: 125mg
SizeOn Proprietary Blend: 61g
Outlast Insutropin Matrix:
Palatinose (Isomaltulose), D-Glucose, Trehalose, Pterostilbene.
Protein Synthesis Acceleration Matrix:
Whey Protein Hydrolysate, L-Leucine (5g), L-Isoleucine, L-Valine, L-Ornithine-L-Aspartate.
PhosphoDrive Endurance Complex:
Creapure (Creatine Monohydrate), Creatine MagnaPower (Magnesium Creatine Chelate), Disodium Creatine Phosphate.
OsmoDrive Advanced Hydration Complex:
L-Taurine, Sodium Glycerophosphate, Calcium Glycerophosphate, Potassium Glycerophosphate, Sustamine (L-Alanyl-L-Glutamine), Magnesium Glycyl Glutamine.
Ingredients:
Malic Acid, Citric Acid, Natural and Artificial Flavours, Salt, Silica, Sucralose, FD&C Red No. 40, Acesulfame Potassium.
Free Shipping Nationwide:
FREE EXPRESS SHIPPING – NEW ZEALAND WIDE
TRACK AND TRACE TO YOUR FRONT DOOR
Delivery Times
North Island - Overnight
South Island - +1 Business day
(Overnight delivery service available during check out) Rural - +1 Business day from the above times
Orders need to be placed before 3.30pm to make it on the final courier of the day
Click here to view the full Shipping Details and Returns Policy.
Gaspari Size On Maximum Performance Reviews
---