Universal Nutrition Animal M-Stak
Universal Animal M-Stak is the hard gainers anabolic stak it is a mega potent anti-catabolic amino blend. Thanks to its significantly improved "nutrient-partitiong" effects, its ability to promote anabolism via protein synthesis and nitrogen retention, and enhanced anti-catabolic factors, the new Universal Animal M-Stak can turn "hard gainers" into "hard" gainers.
Now with new and even more powerful, Natural Flavone/Sterone Complex, Anti-Catabolic Amino Complex, Anabolic Adaptogen Complex, Insulin Potentiating Complex, Energy Complex and a new M-Factor Complex, the all-new Animal M-Stak is gonna blow the roof off the proven original.
Universal Animal M-Stak features:
Natural bodybuilders and power lifters

Classic "hard gainers"

Maximizing muscle gains naturally
What's in Universal Animal M-Stak?
Natural flavones/sterone complex
Universal Animal M-Stak floods your system with an abundance of nutrients. Combining flavones and sterones in hefty doses with the most potent of amino blends supported by an array of other cutting edge ingredients in a single pretraining pack, the new Animal M-Stak takes non-hormonal supplementation to a whole new level.
Universal Animal M-Stak also delivers a potent energy blend, packed with powerful, natural stimulants, methylxanthines and evodiamine, which are designed to propel you through even the most grueling of training sessions. The addition of this complex, easily identifiable by its red capsule, makes M-Stak perfect for pre-training, lighting that fire under your ass that we all need from time to time.
Container Size: 21 Paks
Serving Size: 1 Pak
Servings Per Container: 21
Directions:
Take a pak every day for 21 straight days. Take one pak 30-45 minutes before lifting. On off days, take between meals. Cycle Animal M Stack for best results – three weeks on, one week off. The entire energy complex (stims) is contained in the single red capsule. Remove it as you see fit.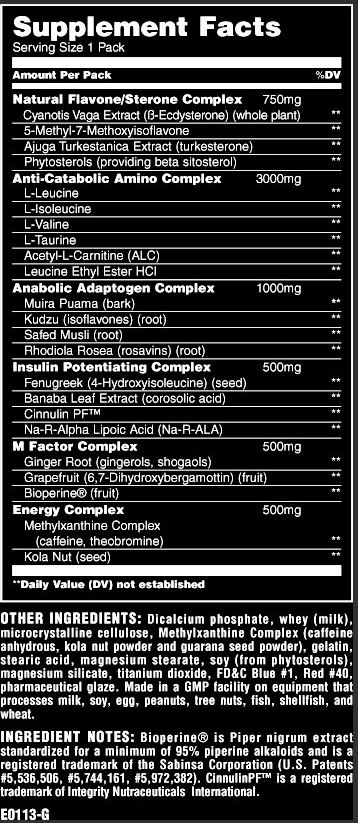 Please Note: Nutritional Information is to be used as a guide only, actual values may differ between flavours and sizes and when formulations are modified or updated by the manufacturer.
Contact us if you have any questions regarding this products ingredients.
NEW: Now shipping 6 days a week + Same Day/Evening Express Shipping available at checkout*
All orders are Free Shipping Nationwide:
NZ Post Courier – Tracking information will be emailed to you once your order has been collected from our warehouse.
Collection 4 times a day, final pick each day at 3.45pm Monday to Friday. We will process and pack your parcel within minutes of receiving your order.
Estimated Delivery Times:
Auckland – Overnight (However many Auckland orders will be delivered the same day depending on what time the order is placed)
North Island - Overnight
South Island – Overnight (for larger parcels allow 2 business days)
Rural - +1 business day from the above times
Upgraded Options
Signature Required – $2 per shipment
South Island Overnight delivery - $10 per shipment. Operates business days only.
Same Day/Evening Express delivery - $15 per shipment. Operates Sunday-Friday. Limited suburbs in Auckland, Hamilton, Wellington and Christchurch.
*Express South Island overnight delivery service available during check out. These orders are transported by air rather than NZ Post trucks.
NZ Post does not operate on public holidays.
Click here to view the full Shipping Details and Returns Policy.
Universal Nutrition Animal M-Stak Reviews
---
Liftwaffe

Published Friday, 28 May 2021

Great product, although I had to take out the red pill (energy complex) not because the caffeine but because the black pepper ingredient was making my gut feel like I ate chilies. Overall though it provides your BCAA's, your muscle gainer/testosterone fortifier and if you can hack it your pre workout energy all in one product. 10/10