Universal Nutrition Animal Pump
Universal Animal Pump is a high performance creatine and NO formula. Animal Pump has it all, from it's synergistic cutting edge creatine blend, NO Blast Complex, proprietary energy and concentration mix, down to it's cell protective antioxidant complex and specialised transport blend which shuttles the Pump to your starving muscles.

Universal Animal Pump features:
High performance creatine and NO formula

Encapsulated and pre-dosed for convenience

Contains a fully daily dose of advanced creatines

Stacks perfectly with Animal Rage
Animal Pump's Energy Rush Complex combines powerful methylxanthines along with evodiamine and vinpocentine to give you that energy boost that gets you fired up for training and the focus and mental acuity so vital to establishing the mind-muscle connection. These powerful substances reach deep into the muscle cell to provide long-lasting energy and power, thus delaying the onset of muscle fatigue.

Animal Pump incorporates a comprehensive antioxidant blend designed to protect your cells from the heavy onslaught of hardcore lifting. Heavy lifting leaves behind free radicals, which are damaging if left alone. Free radical production is also increased with enhanced nitric oxide release. We included the best antioxidants to make sure these free radicals are cleaned out leaving your immune system strong.

The pump is an integral component to new muscle growth. It is literally the "lifeblood" of your bodybuilding pursuits, giving meaning to monotonous training sessions and giving nourishment to your depleted muscle cells.
Container Size: 30 Serve
Serving Size: 1 Pak
Servings Per Container: 30

Directions:
As a "core" or foundational preworkout supplement, take a single pack 30 - 45 minutes before you lift, preferably on an empty stomach. As each pack also contains your full, daily dose of creatine, take Pump every day for optimal results. On non-training days, you can take the pack around the same time as you would if you were training. You can remove the red capsule (stims) on off days, or if you train at night.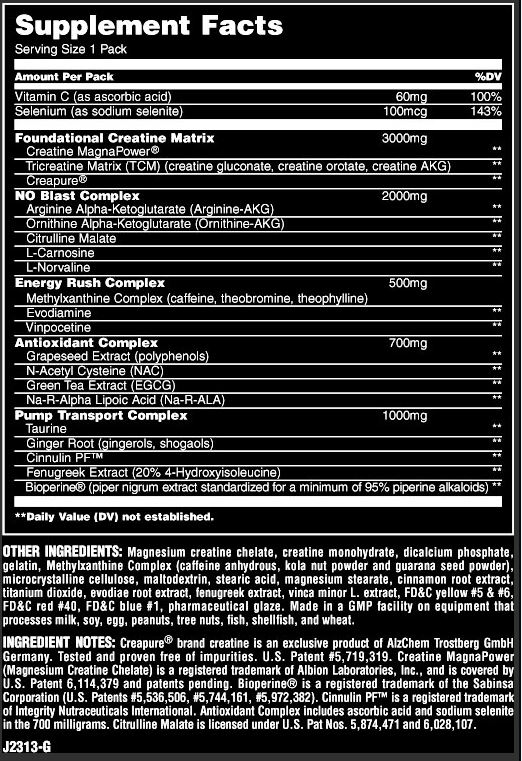 Please Note: Nutritional Information is to be used as a guide only, actual values may differ between flavours and sizes and when formulations are modified or updated by the manufacturer.
Contact us if you have any questions regarding this products ingredients.
All orders $40 and over receive Free* Shipping Nationwide
Estimated Delivery Times*:
Auckland – Overnight (However many Auckland orders are be delivered the same day depending on what time the order is placed)
North Island - Overnight
South Island – Overnight (For larger parcels allow 2 business days)
Same Day/Evening Express Shipping upgrade available at checkout for select suburbs*
Click here to view the full Shipping Details and Returns Policy.
Universal Nutrition Animal Pump Reviews
There are not yet any reviews on this product.