Ehp Labs 24 Hour Burn Combo
Hit your weight loss goals with the EHP Labs Burn Combo
EHP Labs 24 Hour Burn Combo contains:
EHP Labs Oxyshred 60 Serve

EHP Labs Oxysleep 40 Serve
EHP Labs OxyShred has taken the fitness and weight loss world by storm with its amazing taste, efficacious formula and reliable results.EHP Labs OxyShred is a potent thermogenic fat burner. It will take your body to a new level of fat burning called "Hyper-lipolysis". In other words, turbo fat burning. Unlike other fat burners on the market, OxyShred is not a heavy stimulant based thermogenic. OxyShred has been pharmaceutically engineered to switch off your body's "fat memory" the a2 receptors and to stimulate your body's fat burning hormones the ß2-adrenergic receptors to mobilise the existing subcutaneous stubborn fat cells to the mitochondria to be converted into energy in the form of adenosine triphosphate.
EHP Labs OxyShred features:
Limits calorie absorption by the body

May help destroy stubborn fat cells

No jitters or anxiety

Contains mood enhancers

Includes immunity support through Vitamin C and L-Glutamine

Zero carbohydrates, zero sugars, zero fat and zero sodium
EHP Labs OxySleep is a 3-in-1 deep sleep, natural GH release and non-stimulant fat burner thermogenic aid. OxySleep is scientifically formulated with effective ingredients combined to synergistically work on various metabolic, endocrine (hormone system) and neural pathways in the body. ZMA, Phenibut, 5-HTP and Valerian Root help with regulating the sleep and wake cycles (circadian rhythms) to promote "Rapid Eye Movement (REM)" deep sleep. When the body is in a state of REM sleep, the hypothalamus (section of the brain) is stimulated and also triggers the area of the brain responsible for GH release. Not only will you have a deep and restful sleep, but the addition of Green Tea Extract, Conjugated Linoleic Acid, Raspberry Ketones, African Wild Mango and Chromium will promote blood sugar balance and metabolic activity.

EHP Labs OxySleep features:
3-in-1 deep sleep formula

Burn fat while you have a deep and restful sleep

Regulate sleep and wake cycles (circadian rhythms)

Maximise recovery and lean muscle growth - by building lean muscle, you burn more calories throughout the day to improve weight loss
EHP Labs OxySleep advantages:
Non-addictive formula, so you won't have problems sleeping when you stop using it

Wake up feeling refreshed and energetic - no heavy sedatives in OxySleep

Promotes deep sleep so you're not tired throughout the day

Especially useful when travelling through different time zones
EHP Labs Oxyshred:
Container Size: 300G
Serving Size: 1 Scoop (5g)
Servings Per Container: 60

Directions:
For optimum results take twice daily - Mix 1 scoop with 10 ounces (295 ml) of chilled water first thing in the morning on an empty stomach, and on training days, consume 15 minutes prior to exercise. Avoid eating or consuming a protein shake within 20 minutes after consumption for maximum absorption.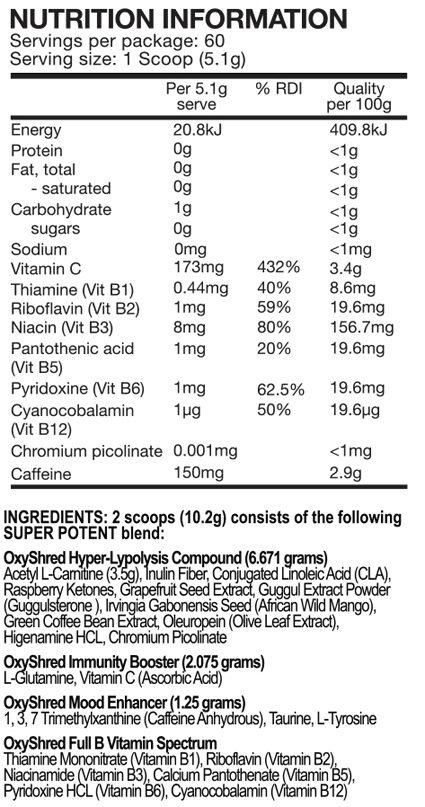 EHP Labs OxySleep:
Container Size: 40 Serves
Serving Size: 1 Serve (4.6g)
Servings Per Container: 40
Directions:
Mix 1 scoop of OxySleep with 250mL chilled water and consume 15 minutes prior to bedtime.
Ensure that you are ready to go to sleep once you have consumed OxySleep as you may
immediately feel tired and sleepy.
Do not operate machinery or drive a vehicle once you have consumed OxySleep.
Please Note: Nutritional Information is to be used as a guide only, actual values may differ between flavours and sizes and when formulations are modified or updated by the manufacturer.
Contact us if you have any questions regarding this products ingredients.
NEW: Now shipping 6 days a week + Same Day/Evening Express Shipping available at checkout*
All orders are Free Shipping Nationwide:
NZ Post Courier – Tracking information will be emailed to you once your order has been collected from our warehouse.
Collection 4 times a day, final pick each day at 3.45pm Monday to Friday. We will process and pack your parcel within minutes of receiving your order.
Estimated Delivery Times:
Auckland – Overnight (However many Auckland orders will be delivered the same day depending on what time the order is placed)
North Island - Overnight
South Island – Overnight (for larger parcels allow 2 business days)
Rural - +1 business day from the above times
Upgraded Options
Signature Required – $2 per shipment
South Island Overnight delivery - $10 per shipment. Operates business days only.
Same Day/Evening Express delivery - $15 per shipment. Operates Sunday-Friday. Limited suburbs in Auckland, Hamilton, Wellington and Christchurch.
*Express South Island overnight delivery service available during check out. These orders are transported by air rather than NZ Post trucks.
NZ Post does not operate on public holidays.
Click here to view the full Shipping Details and Returns Policy.
Ehp Labs 24 Hour Burn Combo Reviews
---