BSN Amino X is a branched-chain amino acid supplement. A fully instantised effervescent BCAA endurance and recovery formula that helps maximise energy, endurance, strength, muscle growth, training performance and supports fast muscle tissue recovery.
BSN Amino X is a highly anabolic bcaa blend that utlizes a unique delivery system providing rapid uptake of the powerful anabolic ingredients such as amino acids, bcaa's, EAA's, Vitamin D, and Citrulline Malate.
BSN Amino X feaures:
World's first effervescent instantized amino acid product

Build muscle and increase protein synthesis

Support recovery, enhances endurance and enhances training performance

Reduce muscular fatigue

500 Anabolic IUs of vitamin D per Serving

Caffeine and sugar free formula can be used day or night
Branched-chain amino acids are three specific amino acids - leucine, isoleucine and valine - that are part of the nine essential amino acids. An interesting aspect of BCAAs is that they are metabolized in the muscle tissue, not the liver. For this reason, BCAAs lend themselves readily to help support muscle recovery as well as offsetting muscle breakdown. Most notably, leucine has many novel anabolic properties. Along with stimulating muscle protein synthesis, leucine may also activate the mammalian target of rapamycin, which is responsible for regulating cell growth.
Suitable for all sporting activities BSN Amino X is an anabolic and recovery formula for men and women wanting to boost overall performance, muscle growth and recovery.

Container Size: 30 Serve
Serving Size: 1 scoop (14.5g)
Servings Per Container: 30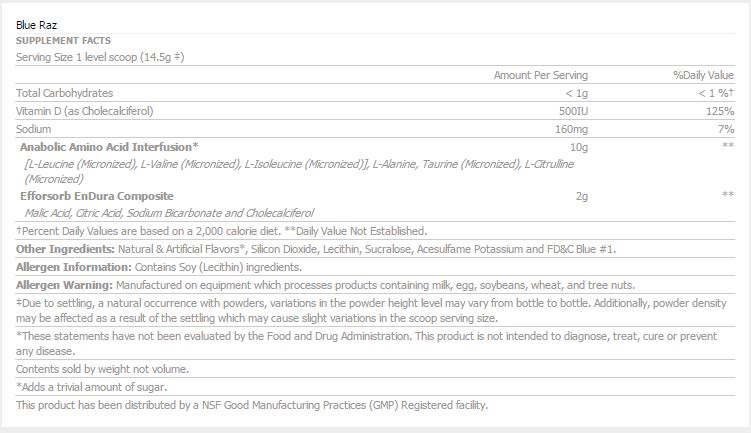 Please Note: Nutritional Information is to be used as a guide only, actual values may differ between flavours and sizes and when formulations are modified or updated by the manufacturer.
Contact us if you have any questions regarding this products ingredients.
All orders $40 and over receive Free* Shipping Nationwide
Estimated Delivery Times*:
Auckland – Overnight (However many Auckland orders are be delivered the same day depending on what time the order is placed)
North Island - Overnight
South Island – Overnight (For larger parcels allow 2 business days)
Same Day/Evening Express Shipping upgrade available at checkout for select suburbs*
Click here to view the full Shipping Details and Returns Policy.
Bsn Amino-X Double Combo Reviews
---