Bsn No Xplode Amino-X Combo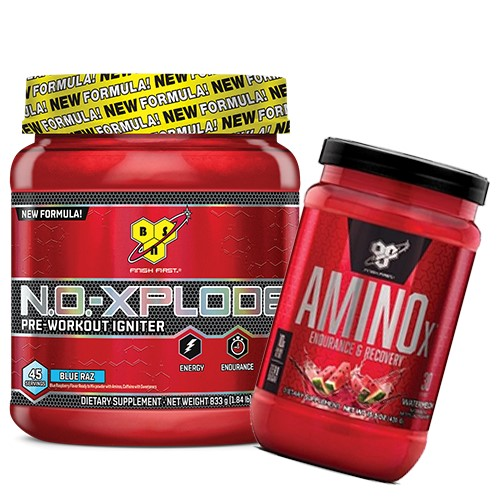 Get the pre-workout edge with the BSN NO Xplode Amino-X Combo
BSN Edge NO Xplode Amino-X Combo contains:
BSN NO Xplode

BSN Amino-X
When formulating BSN N.O Xplode, BSN has taken into account the main aspects which a quality pre-workout supplement should provide. For this reason, N.O Xplode is not a concentrated product like many alternatives on the market which primarily just aim to give you a stimulant rush. N.O Xplode is much more than that, it contains an advanced matrix of ingredients designed to improve muscle endurance, strength and muscle pumps!

BSN have held true to their reputation for delivering quality and the addressing the real needs of hard training bodybuilders and athletes, as N.O Xplode will promote some of the greatest workouts you've ever had. This is thanks to the intense mental focus, and physical ability to perform more repetitions that can result when supplementing with such a potent mix of quality ingredients.

BSN NO Xplode features:
Reformulated and Re-Engineered Pre-Workout

5 matrix systems of ingredients to support a comprehensive boost to training capacity

Push yourself further in terms of focus, attention, endurance, strength and pump

Well researched and innovative use of ingredients
BSN Amino X is a branched-chain amino acid supplement. A fully instantised effervescent BCAA endurance and recovery formula that helps maximise energy, endurance, strength, muscle growth, training performance and supports fast muscle tissue recovery.
BSN Amino X is a highly anabolic bcaa blend that utlizes a unique delivery system providing rapid uptake of the powerful anabolic ingredients such as amino acids, bcaa's, EAA's, Vitamin D, and Citrulline Malate.
BSN Amino X feaures:
World's first effervescent instantized amino acid product

Build muscle and increase protein synthesis

Support recovery, enhances endurance and enhances training performance

Reduce muscular fatigue

500 Anabolic IUs of vitamin D per Serving

Caffeine and sugar free formula can be used day or night
Branched-chain amino acids are three specific amino acids - leucine, isoleucine and valine - that are part of the nine essential amino acids. An interesting aspect of BCAAs is that they are metabolized in the muscle tissue, not the liver. For this reason, BCAAs lend themselves readily to help support muscle recovery as well as offsetting muscle breakdown. Most notably, leucine has many novel anabolic properties. Along with stimulating muscle protein synthesis, leucine may also activate the mammalian target of rapamycin, which is responsible for regulating cell growth.
Suitable for all sporting activities BSN Amino X is an anabolic and recovery formula for men and women wanting to boost overall performance, muscle growth and recovery.
BSN NO Xplode
Container Size: 45 Serves
Serving Size: 1 Scoop (18.5g)
Servings Per Container: 45
BSN Amino-X
Container Size: 30 Serve
Serving Size: 1 scoop (14.5g)
Servings Per Container: 30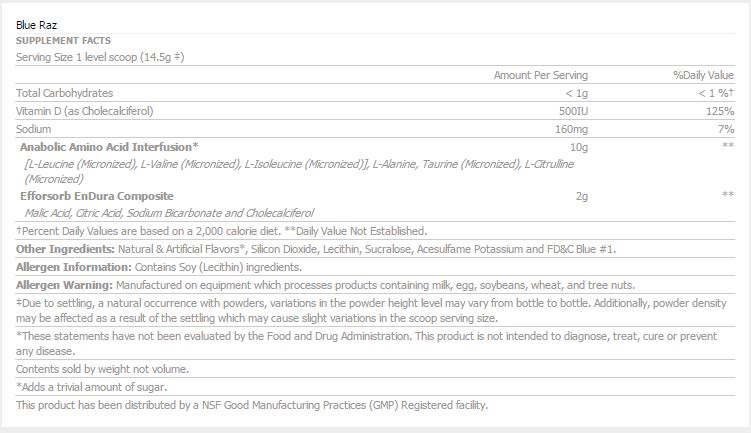 Free Shipping Nationwide:
FREE EXPRESS SHIPPING – NEW ZEALAND WIDE
TRACK AND TRACE TO YOUR FRONT DOOR
Delivery Times
North Island - Overnight
South Island - +1 Business day
(Overnight delivery service available during check out) Rural - +1 Business day from the above times
Orders need to be placed before 3.30pm to make it on the final courier of the day
Click here to view the full Shipping Details and Returns Policy.
Bsn No Xplode Amino-X Combo Reviews
---