Ehp Labs Fat Loss Essentials Combo
Get the EHPLabs Fat Loss Essentials Combo. This combo contains EHPLabs Oxy Whey 900G (2LB) OxyShred 60 serves and EHPLabs Acetyl L-Carnitine 100G.
Ehp Labs OxyWhey is essentially a lean protein formula designed to increase metabolic rate and aid in fat loss while being Gluten Free and a low 100 Calories per Serve.
This Lean Protein Formula contains many added ingredients including mct oils, glutamine, taurine, tyrosine, green tea extract, chromium picolinate and grapefruit seed extract whilst also containing a patented digestive enzyme called ProHydrolase. When ProHydrolase is combined with whey protein, it increases the rate of protein breakdown therefore improving Oxy Whey's protein uptake and usability. Adding to the Appeal of Oxy Whey is the addition of 5.3grams of essential BCAA's making it great for recovery and optimal Muscle Retention.
Each 31g scoop of Oxy Whey will deliver 24g of protein as well as the metabolic increasing factors which have such great appeal with this Product. OxyWhey is perfect for any individual on a fat loss diet and the fact that it mixes perfectly, tastes great and keeps you full and sustained for hours after consumption make this a great protein product.
Ehp Labs Oxy Whey features:
Metabolic boosting

Low fat

Low carbohydrate

Added MCT Oils for fat loss

5.3 grams BCAA'S

Digestive enzymes for better protein breakdown
EHPLabs OxyShred has taken the fitness and weight loss world by storm with its amazing taste, efficacious formula and reliable results.EHPLabs OxyShred is a potent thermogenic fat burner. It will take your body to a new level of fat burning called "Hyper-lipolysis". In other words, turbo fat burning. Unlike other fat burners on the market, OxyShred is not a heavy stimulant based thermogenic. OxyShred has been pharmaceutically engineered to switch off your body's "fat memory" the a2 receptors and to stimulate your body's fat burning hormones the ß2-adrenergic receptors to mobilise the existing subcutaneous stubborn fat cells to the mitochondria to be converted into energy in the form of adenosine triphosphate.
EHPLabs OxyShred features:
Limits calorie absorption by the body

May help destroy stubborn fat cells

No jitters or anxiety

Contains mood enhancers

Includes immunity support through Vitamin C and L-Glutamine

Zero carbohydrates, zero sugars, zero fat and zero sodium
OxyShred is the most advanced and potent thermogenic fat burner ever developed. OxyShred induces hyper-lipolysis, which is a complex process of super-efficient and enhanced burning of the subcutaneous fat molecules.
EHPLabs OxyShred helps your body undergo hyper-lipolysis, which speeds up your ability to bust through the stubborn fat hanging around your belly and other areas. OxyShred also includes L-Glutamine and Vitamin C that can improve your immune system. Many other thermogenics do not have these immunity benefits. Finally, OxyShred provides your body with valuable energy that can have you performing your best before, during and after your exercise sessions.
EHP Labs Acetyl L-Carnitine is often used as a fat burner and while it is not as potent as thermogenics (which boost metabolism), Acetyl L-Carnitine makes fat more mobile and better able to enter the fat-burning cells called mitochondria. This "switches on" fat burning so you can burn fat more effectively – especially during exercise. This is why Acetyl L-Carnitine is often added to pre and intra-workout drinks.
What is Acetyl L-Carnitine? It is a naturally occurring amino acid that promotes the transportation of free fatty acids into the mitochondria (core of the cells), where they are burned off as energy. Acetyl L-Carnitine also assists muscle recovery after strenuous exercise and promotes optimal heart and brain function.
EHPlabs wants to ensure that the Acetyl L-Carnitine pharmaceutical quality is maintained, hence, this product has not been artificially flavoured or coloured.
Ehp Labs Acetyl L-Carnitine features:
100% Pure Pharmaceutical grade

Helps mobilises and transports fat to use it for energy

Helps with recovery after workouts

Maximises the effects of OxyShred

Zero stimulants, sugars, carbs and fillers

Due to the products purity contents will be harden inside the container
EHPLabs Oxy Whey:
Container Size: 903G (2LB)
Serving Size: 1 Scoop (31g)
Servings Per Container: 30
Directions:
Mix 1 scoop of OxyWhey with 200ml of chilled water in a shaker bottle. Adjust liquid level to suit your taste and level of flavour intensity. Consume twice a day or as your dietary needs require.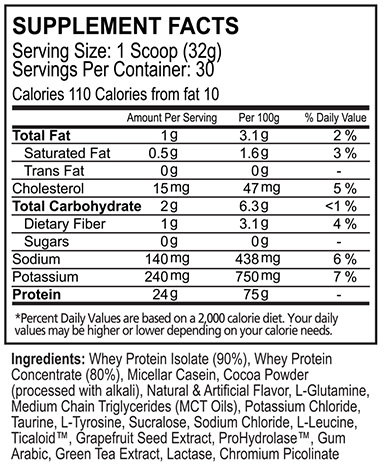 EHPLabs OxyShred:
Container Size: 300G
Serving Size: 1 Scoop (5g)
Servings Per Container: 60

Directions:
For optimum results take twice daily - Mix 1 scoop with 10 ounces (295 ml) of chilled water first thing in the morning on an empty stomach, and on training days, consume 15 minutes prior to exercise. Avoid eating or consuming a protein shake within 20 minutes after consumption for maximum absorption.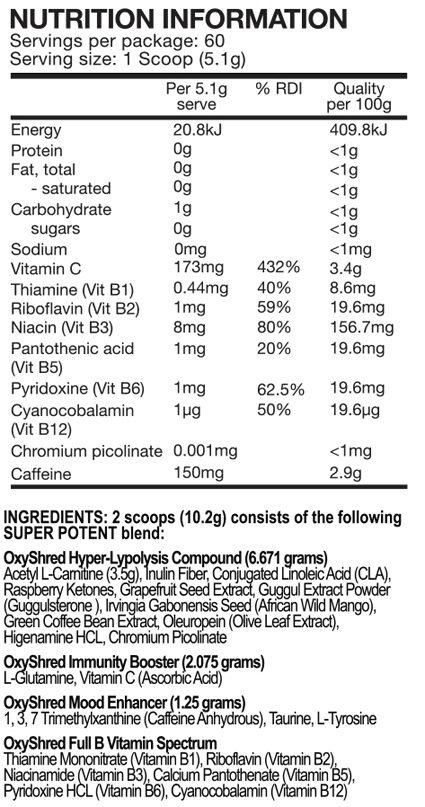 EhpLabs Acetyl L-Carnitine:
Container Size: 100G
Serving Size: 1 Scoop (1g)
Servings Per Container: 100
Directions:
Take 1 to 2 scoops of EHPLabs Acetyl L-Carnitine with 295ml of water, fruit juice or another flavoured beverage of your choice. Do not exceed 5 scoops in one day.
Amount Per Serve:
Calories 0
Calories from fat 0g
Cholesterol
Carbohydrate - total 0g
Protein 0g

Other Ingredients:
100% Pharmaceutical grade Acetyl L-Carnitine
Please Note: Nutritional Information is to be used as a guide only, actual values may differ between flavours and sizes and when formulations are modified or updated by the manufacturer.
Contact us if you have any questions regarding this products ingredients.
All orders $40 and over receive Free* Shipping Nationwide
Estimated Delivery Times*:
Auckland – Overnight (However many Auckland orders are be delivered the same day depending on what time the order is placed)
North Island - Overnight
South Island – Overnight (For larger parcels allow 2 business days)
Same Day/Evening Express Shipping upgrade available at checkout for select suburbs*
Click here to view the full Shipping Details and Returns Policy.
Ehp Labs Fat Loss Essentials Combo Reviews
---